AMAZING FERRET. UNBELIEVABLE RECOVERY: Pongo's Story
By Kristy Johnson
Pongo the Amazing Ferret
WARNING: This article contains graphic photos of foot rot and other conditions.
Pongo was surrendered to us toward the end of February. The story we were given was that he had been dumped in a cardboard box, wasn't tame, and wasn't very well. In truth, he was just a youngster somewhere between 12 and 16 weeks and he was in awful condition. He needed urgent vet treatment, but the caller claimed they couldn't provide the necessary medical care for him. Instead, they called us so I went and picked him up straight after work that day.
We are often confronted by awful things in our line of work, but even we were appalled and horrified by Pongo's poor condition. How someone could allow an animal to get into this kind of condition we will never know. Pongo's poor feet were bald, horribly red, inflamed, and scabby with grossly overgrown nails. Even his tail and ears were almost completely bald.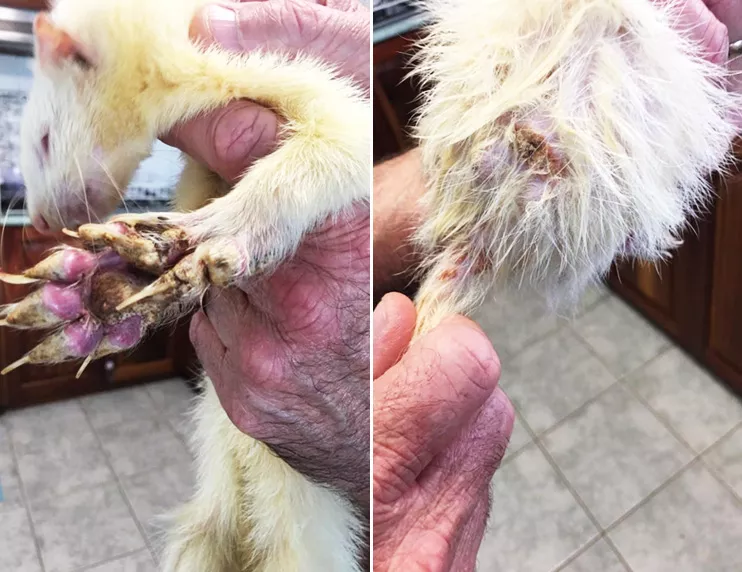 Day 1: Pongo gets rescued in a horrible state
Pongo was suffering badly from sarcoptic mange, a condition caused by the parasite Sarcoptes scabiei. This is a type of microscopic mite (not the same as ear mites) which invades the skin and causes a number of skin problems including intense itching, inflammation, hair loss, and scabs. In its localised form it's known as foot rot and mainly affects the feet. In severe infestations, the nails may become deformed or fall out and if left untreated, the feet can become so damaged that amputation is necessary. It is also highly contagious to other ferrets, animals, and even humans and is usually caused by overcrowding and living in poor and unhygienic conditions.
Day 2: Pongo's treatment begins and after a bath, his feet are already starting to look a bit better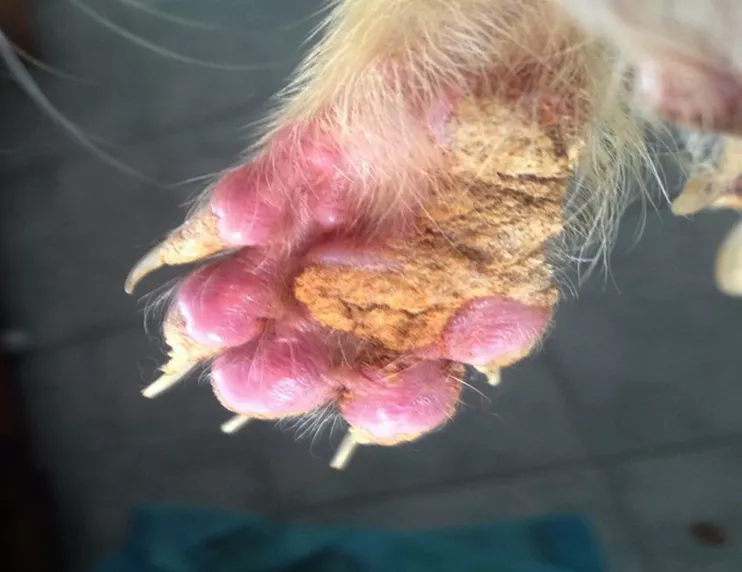 Day 2: Foot progress
In Pongo's case, our vet suggested euthanasia due to him being in such a poor and malnourished condition, but we argued against it. After all, we'd already dealt with this before in previous rescues. With a lot of time, care, and love, we had successfully rehabilitated other fuzzies in similar conditions. Based on this experience, we decided to give Pongo a chance. The vet agreed that if we could get him to put on weight and show improvement in a week, then Pongo would have a chance of recovery. So, after some antibiotic, anti-inflammatory, and vitamin B injections Pongo came home with us and our mission began!
Day 3: Pongo is lucky to have found Kirsty and Robert Johnson who never gave up on him
Once home, we immediately set about treating Pongo with twice daily medicated baths and fortnightly doses of revolution flea and mite treatment to kill and manage the mite infestation. Slowly, day by day we trimmed Pongo's nails and watched as all the crusty horrible scabs fell off his feet. In just one week, Pongo managed to gain 200 grams and looked so much better than his first vet visit. The vet was elated with his progress and very impressed with our efforts. We were able to reduce the number of daily baths to one every three days and continue to gradually trim his nails to a more suitable length.
Since then, Pongo has continued to make wonderful progress. His feet and ears have started to grow fuzzy once more and his nails are now nicely trimmed. As soon as it was safe, Pongo was allowed out of quarantine to meet and play with other ferrets and he was so excited! He's made some fast friends including our other amazing rescue boy Chance and loves to play and war dance about with the others we have in care. He really does have a new lease of life!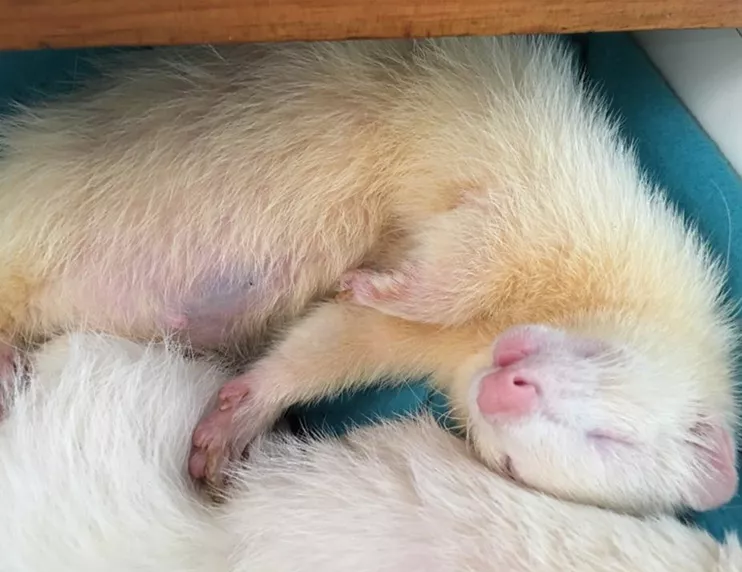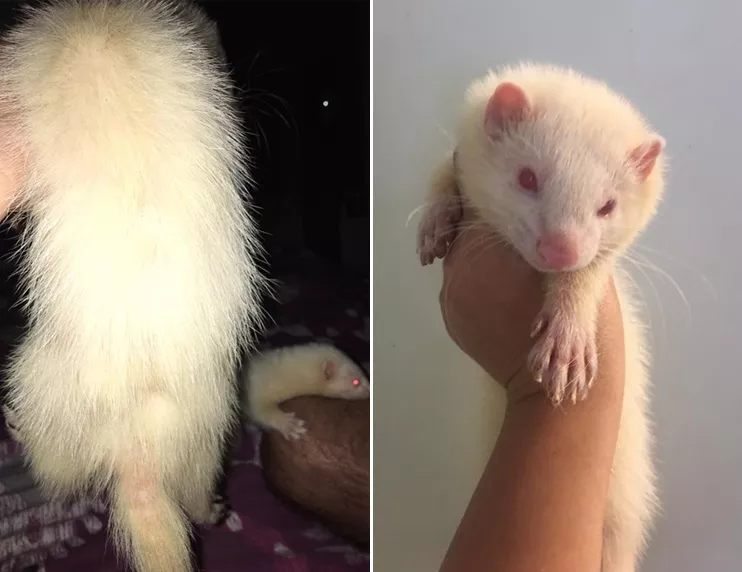 Week 2: Pongo is quite obviously recovering remarkably well!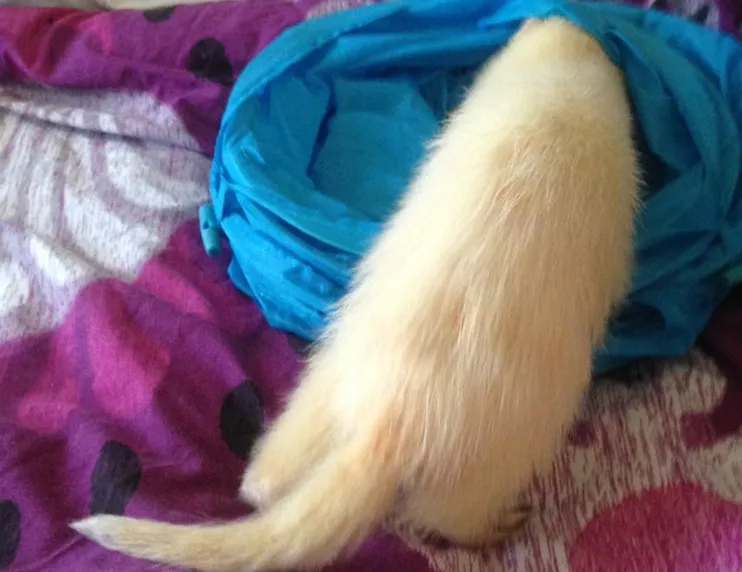 Week 3: Pongo's overall condition is amazing. He would have never gotten this far without the help, love, and care that Kirsty and Robert gave him.
It will be so hard for us to say goodbye to Pongo but when he's made a full recovery in a few weeks, he will be up for adoption. We really hope to find a beautiful and happy forever home for this special little boy!
Kristy and Robert Johnson have a combined experience of 15 years in ferret care and welfare and are passionate about rescuing and rehoming ferrets in need. Along with the founder Carina Rimon, they help run Unwanted Fuzz, a ferret rescue based in Victoria, Australia.
For more information please click this link
Donations are very much welcome and can be made via PayPal to [email protected]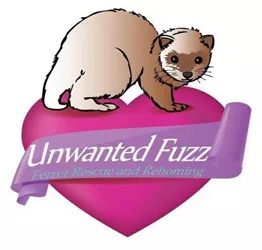 This article originally appeared in Dook Dook Ferret Magazine (Issue 3). To receive 6 new Dook Dook Ferret Magazines per year + get access to other bonuses then join the Ferret-World Membership.