An Unholy Union: The Relationship Between Vets and Pet Food Companies
By Vinita Balasubramanya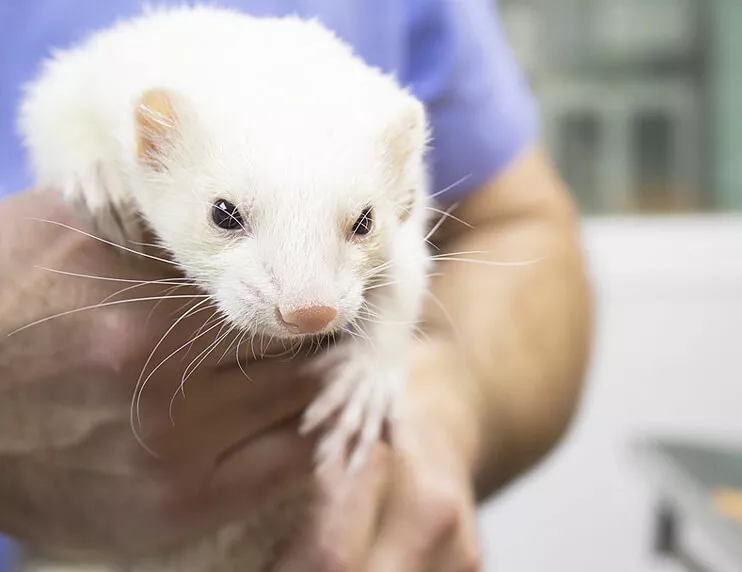 Imagine if medical school courses were taught by pharmaceutical companies employees. Would you trust a doctor trained this way to know their stuff? Would you trust them to prescribe you medication based on what's best for you?
In Australia, the situation in veterinary schools is just as worrisome. Veterinary school students may receive a short lecture (sometimes with free food and t-shirts as incentive) that are sponsored by pet food manufacturers, or their entire nutrition course material may be taught by a "nutritionist" employed by a pet food company, like students at Sydney University. According to Dr. Richard Malik, a vet who's been practicing for 34 years, this represents a gross conflict of interest. And once vet students have graduated, Malik argues, professional vet conferences are not only sponsored by pet food and pharmaceutical companies, but many of the speakers at the conferences are affiliated with those companies. Some pet food and pharmaceutical companies offer scholarships, establish facilities for drug trials in universities, or sponsor teaching hospitals. At Perth's Murdoch University, the teaching is sponsored by Hills Pet Foods; the hospital's lab coats are branded with the Hills Pet Foods logo and almost all discharge letters for animals treated there recommend a Hills diet.
Should I not trust my vet?
Well, no. It certainly isn't true that all or even most vets are recommending products because they get perks and kickbacks. Even in countries that allow shady relationships between human doctors and pharmaceutical companies, most doctors prescribe drugs they think will help you, not drugs that get them money. Similarly,  vets usually love animals and are typically ethical people. And not many people would risk their reputation and careers for a few extra bucks, whether it's a commission or a luxury cruise. (According to the Canadian vet behind the blog Claws Carefully Sheathed, kickbacks aren't even that nice.) The entire sordid tale of an unholy nexus between pet food/drug companies is limited to a few unethical individuals. According to Malik, however, even these bad actors could be stopped by adopting the Australian Medical Association code of ethics, followed by human doctors in Australia.
Accusations of conflicts of interest are not new
Accusations of physicians and specialists being compromised by drug companies are widespread. The claim that pet food and pharmaceutical companies are too involved in the practice of veterinary medicine has also been made in the United States, United Kingdom, and Canada. Like human doctors, most vets receive freebies from food and pharmaceutical companies, from swag like notepads and calendars to educational posters. If one were to put themselves in the vet's (or doctor's) shoes, it would be understandable that a few things would be pressed on to them by persistent sales representatives. This does not necessarily mean that the good doctor is corrupt. Few of us could be corrupted by swag! The problem, however, lies with the sales pitch given to the doctors, from vet school to conferences to their own practices.
The goal of food companies is profit
Most pet food manufacturing companies are owned by huge industrial companies. Hill's, for example, is owned by Colgate-Palmolive and Royal Canin by Mars Company. The sales target of such companies necessarily requires the profits to climb with each quarter. The sales teams then put together a convincing promotional campaign and follow it up with an impressive battery of advertisements, discounts, and freebies for pet stores and vets. In this feverish pitch to reach the (sometimes impossible) sales target, misleading information and half-truths are deftly doled out to vets. According to journalist Susan Thixton, Royal Canin shows a video to American vets that falsely argues that human grade food is dangerous to feed dogs. The video then claims that the labels organic and human grade mean "absolutely nothing" and are "advertising claims." This is a lie. Both terms are legally defined by the Food & Drug Administration (FDA) and companies can be prosecuted for using them incorrectly.
If these same companies are providing some of the vets' education, sponsoring and speaking at their professional conferences, and bombarding them with lies in their sales pitches, it's hard to believe that all vets will see through their pitches. So besides the ethics of the vet in question, part of the concern here is about the corporate culture of putting profits above everything, including ethics and animal welfare.
What to do about it
I don't recommend distrusting your vet, but you should do your own research about your pet's nutritional needs and the food you feed them (see "Raw or Kibble? What Science Says about What to Feed Your Pet" on page ##). Understand what parts of food packaging are legally regulated (like the "guaranteed analysis" in the United States) and what parts that can say whatever they want. Learn what terms mean something (human grade) and what terms don't mean anything (natural). In other words, familiarize yourself with the laws that regulate pet food manufacturing, so you don't fall for lies told to you by a pet food company.
This article originally appeared in Dook Dook Ferret Magazine (Issue 11). To receive 6 new Dook Dook Ferret Magazines per year + get access to other bonuses then join the Ferret-World Membership.
References and further reading
"Bayer Animal Health Offers Scholarships to Veterinary Students." PetfooodIndustry.com. Published on 4 October 2012. ttps://www.petfoodindustry.com/articles/3221-bayer-animal-health-offers-scholarships-to-veterinary-students. Accessed 7 May 2018. (Web page)
Biduk, Roger. "Kickbacks from Pet Food Companies to Veterinarians and Vet Schools." Best Cat and Dog Nutrition.http://www.bestcatanddognutrition.com/roger-biduk/kickbacks-from-pet-food-companies-to-veterinarians-and-vet-schools. Accessed 5 May 2018. (Web page)
"Blue Buffalo Established Veterinary Clinical Trials Office." PetfoodIndustry.com. Published on 19 May 2016. https://www.petfoodindustry.com/articles/5829-blue-buffalo-establishes-veterinary-clinical-trials-office. Accessed 7 May 2018. (Web page)
Dwyer, Bruce. "The Australian Pet Food Industry Is Owned by Two Companies. Grains Anyone?" Healthy Dog Treats. https://www.healthydogtreats.com.au/dog-nutrition/117-pet-food-manufacturer. Accessed 7 May 2018. (Web page)
"Pet Food." How Products Are Made. http://www.madehow.com/Volume-2/Pet-Food.html. Accessed 2 May 2018. (Web page)
Pet Food Manufacturers Association (PFMA). Statement in response to documentary The Truth about Your Dog's Food. http://www.adch.org.uk/Forum%20Downloads/PFMA%2014.pdf. Accessed 5 May 2018. (PDF available online)
"Regulatory and Legislative Affairs." Pet Food Institute. https://www.petfoodinstitute.org/regulatory-legislative-affairs/. Accessed 5 May 2018. (Web page)
"The Truth about Vets and the Corporate Pet Food Giants." Claws Carefully Sheathed. Published on 4 March 2014. Accessed 5 May 2018. (Web page)
Thixton, Susan. "What Royal Canin Reps Are Selling to Vets." The Truth about Pet Food. Published on 17 August 2017. http://truthaboutpetfood.com/what-royal-canin-reps-are-selling-to-vets/. Accessed 6 May 2018. (Web page)
United States Food and Drug Administration (FDA). "Overview of FDA's Animal Feed Safety System." Published in July 2016. https://www.fda.gov/downloads/AnimalVeterinary/SafetyHealth/AnimalFeedSafetySystemAFSS/UCM277673.pdf. Accessed 5 May 2018. (PDF available online)
Whyte, Sarah, and Lesley Robinson. "Vet Industry Compromised by Influence of Pet Food and Pharmaceutical Companies, Expert Says." ABC News. Published on 21 January 2016. http://www.abc.net.au/news/2015-11-12/vet-profession-compromised-by-commercialisation-of-industry/6936732. Accessed on 2 May 2018. (Web page)