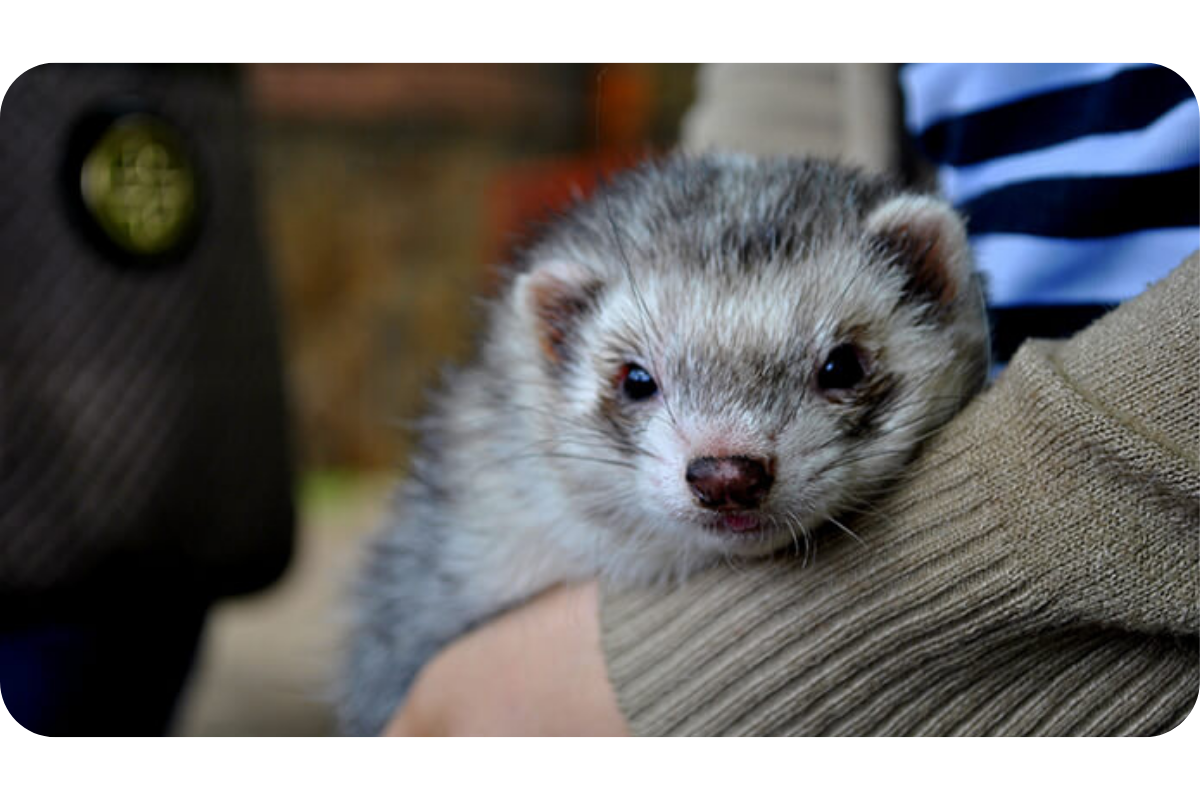 If you are looking for a pet ferret that is matched to your personality, lifestyle, and home, then you should consider getting your ferret at a ferret shelter. Ferret shelter owners get to know every ferret that comes through their door and they want to match their ferrets with the best possible forever homes. They will spend time with their ferrets, assessing their personality, seeing how they interact with other ferrets, and socializing the new ferrets.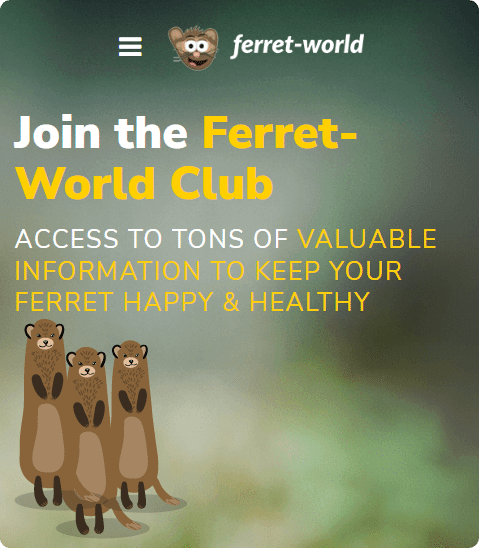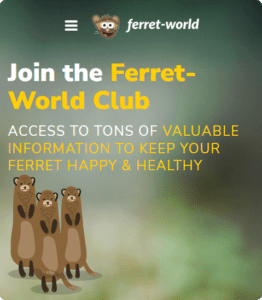 Shelter owners will also take new or baby ferrets to a vet to determine if the ferret has any diseases or conditions that you'll need to know about when adopting. The vet will, if appropriate, desex the ferret and treat any curable issues the newcomer has, like fleas and ear mites, saving you some time and money at the vet yourself.
Ferret shelter owners are also some of the most experienced and knowledgeable people when it comes to proper ferret care. They can usually answer all your ferret care questions (including questions about baby ferrets or ferret grooming) and help set you up for success with your new ferret.
This is our number one recommendation for any pet owners looking to buy ferrets. 
Shelter goals
Rescue ferrets and help them find forever homes. Shelters are concerned with the long-term wellbeing of each ferret rescue.
Shelter prices
Adoption fees range from $80-$150 USD
What you get for that price
Typically, shelter ferrets are:

Desexed
Vaccinated
Checked by a vet
Matched to your particular living situation
Socialized and litter trained
In addition, ferret shelter staff can give you good advice on how to care for your ferret.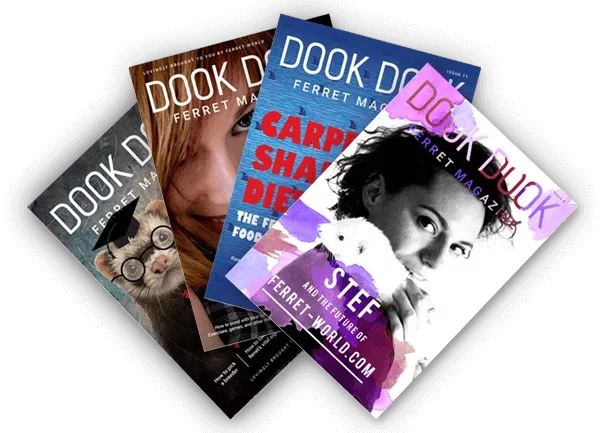 Helping Your Ferrets Live Healthier, Happier Lives
Join other ferret owners and experts and get access to Dook Dook Ferret Magazine, Ferret-World Members Community and other Resources!
Ferrets are susceptible to certain diseases, mainly due to poor breeding practices. A reputable breeder will trace the lineage of their ferrets and ensure that their bred ferrets are not predisposed to those diseases.
Unfortunately, there aren't that many reputable ferret breeders around the world, as most ferrets generally come from large commercial breeders or backyard breeders. It is best to ask your local ferret shelter or local store if there are any reputable ferret breeders in your area.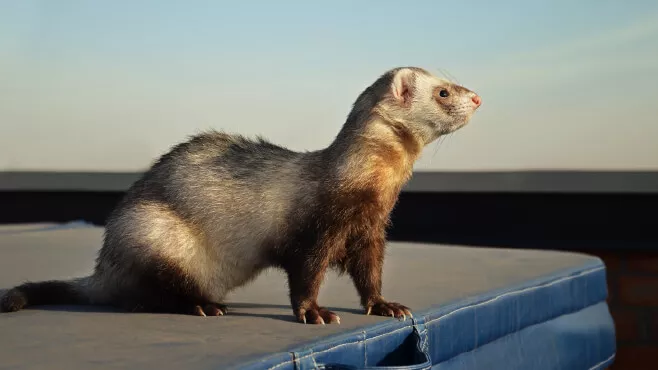 Reputable breeder goals: Reputable breeders are driven by the desire to create healthy, well-behaved ferrets.
Reputable breeder prices: Fees range from $80-$350 USD
What you get for that price: Typically, reputably bred ferrets are:

Vaccinated
Checked by a vet
Genetically healthy
Socialized and litter box trained
They will be able to show you their breeding ferrets' family lineage
In addition, reputable breeders can give you good advice on how to care for your ferret.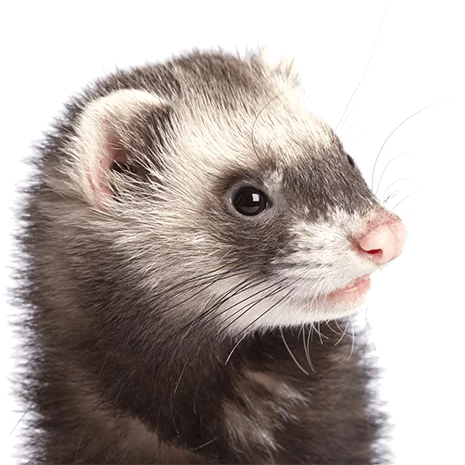 One of the most common places to find ferrets for sale is pet shops. Pet shop ferrets generally come from large commercial ferret breeding farms. (You can ask pet stores where their ferrets are bred and do your own research.) While commercial breeders do tend to create docile, friendly ferrets, they are also the most likely to develop certain deadly diseases.
Many pet stores are misinformed about proper ferret care, merely passing on the information given to them by the commercial breeder. Commercial breeders are motivated by profit, so they will usually tell you that the breeder's food and other products are the best for ferrets. This may not be true.
Pet shop goals: Pet shops want to sell ferrets for a profit, meaning they will usually try to sell you their food, cages, and other ferret accessories
Pet shop prices: Prices range from $80-$150 USD
What you get for that price: Typically, pet shop ferrets are:

Desexed
Descented, if found in the United States (most other countries outlaw medically unnecessary descenting)
Predisposed to common ferret diseases
These breeders are generally some of the worst people to buy ferrets (ferret baby or adult ferret) from because they typically do not understand ferret genetics or good breeding practices. Their ferrets may be unhealthy and unfriendly.
How do you tell a backyard breeder from a reputable breeder? Backyard breeders are ferret owner who typically: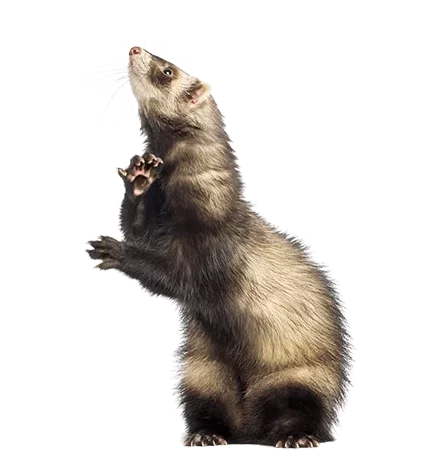 Advertise in free or cheap online markets like Gumtree or Craigslist
Do not show prospective buyers the living conditions of their ferrets
Cannot show documentation of the breeding ferrets' lineage
Do not require you to return the ferret to them if the ferret is, for whatever reason, eventually not a good fit for you
Backyard breeder goals: The ferret owner is either engaging in a hobby or driven by profit by selling ferrets for sale
Backyard breeder prices: Prices range from $80-$350 USD
What you get for that price: Typically, backyard bred ferrets are:

Predisposed to common ferret diseases
Not vaccinated
Not checked by a vet