Honey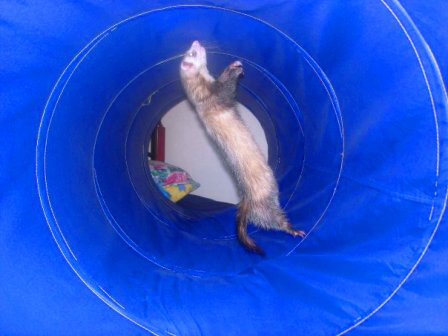 Here we have the lovely winner of Ferret of The Month December – Honey!
This was an entry off one of my Facebook pages and when I saw this photo I though it was the funniest thing in the world. Good timing…that's for sure!
Here is Honey's Story:
More Like A Family Member and Not A Pet, Her name is Honey…..She Spends Little time In Her Cage An Pretty Much Thinks She Owns Our House But Thats Okay, We Find Her Sleeping In All Sorts Of Places From The Clothes Dryer (always Unpluged lol) My Bag, The Sterio Speakers, an almost Everytime I Leave my room unattended She Climbs Right Up On My Bed an Sleeps under The Pillows :)…..
She Loves to Eat Tuna More Then Anything, An spends alot of her time Stashing Food Behind The Fridge, The Washer, an Couch…..
No Matter Where She is Or What Shes Doing She Will Come 2 The Sound Of A Squeeky Ball…And when you walk 2 Close Behind her or to fast past her She gets all fluffy an bounces around She thinks shes scary but its just cute…….
Thanks to Cassie for this wonderful story.