King Satan Fragle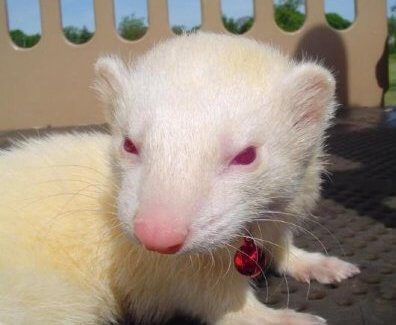 This is King Satan Fragle – Ferret of The Month October 2009!
This is one very special ferret! His owner, Brandon, told me Kings story and I was absolutely horrified at what the poor ferret has gone through in his life…
Brandon wrote:
"He actually is one of the most amazing ferrets. Why I say that your probably wondering.. Well I rescue ferrets and he actually started it all.. I found him while fourwheeling in pa.. I stopped for a break, got off my 4wheeler and I saw him dangling from his lil neck from a tree.. He was thee nastiest ferret ever.. Bite so bad he drew blood.. Come to find out.. He was hung there to see how long it took him to die… but I have him now and those 2 people were put in jail. Now king is one big ham, no biting and he is deaf and blind and he loves to be dressed up."
Brandon also shared: "I am one devoted ferret daddy to 19 ferrets all who r rescued and cared for".
Thank you so much for sharing yours and King's story with us Brandon… I know that King has a very special place in my heart and he has probably touched many others.