Kiwi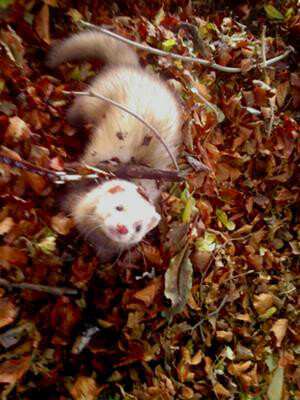 Ferret Of The Month July 2010 goes to a ferret who's story pulls at your heart strings! Go KIWI – happy Ferret of The Month!!!
Here is a ferret who truely has an amazing story! I nearly cried when I read this story and I know a few people who did. It shows how valuable even the smallest life is and how important it is to cherish it.
We had a bit of a scare this month cause Kiwi has been a little sick and we thought he passed away but as usual he has proven to be a tough little cookie who never gives up on life! Bless his little soul!!!
Here is what his wonderful owner had to share:
My story is a long one, and so unbelievable it's almost like a fairytale, but it's worth it for the ending! 🙂
(We're against buying from breeders when so many ferrets are in shelters, but we already had ten ferrets and I wanted a kit. None in our shelters, so a breeder it was. I don't regret going to the breeder for a minute because if I had goen to a rescue that day, I wouldn't have the wonderful little bundle I have now.)
The birth of "Kit7" didn't quite go to plan. He was stuck in his mothers birth canal for 12 minutes. The breeder was only concerned about her "prize mother" and did all she could to save her, and just dumped Kit7 aside when he finally emerged into the world. Thankfully, and miraculously, he survived the ordeal.
Though smaller than the rest, and often shunned by his brother and sisters and even his mother, he made it to six weeks old, getting minimal feeds from his mother when the rest of the litter were done. When I went to the breeder to find a new ferret addition to the family, I saw Kit7 in the corner of the nest and asked about him. The reply? "He's not for sale, he's ill.
We're taking him to be put down because we can't make money from him and don't want the burden whilst we're breeding." Heartless. This woman was going to destroy this tiny little bundle because he wouldn't make her a profit. Being trapped without air for 12 minutes had caused brain damage, and Kit7 was slow and clumsy.
I told her I'd take him, and she refused. I begged her to let me take him home but she just said over and over that he was to be put to sleep and wouldn't be sold. Finally I gave her a choice. She took my extra offer of £50 for Kit7, or I reported her for animal cruelty and dishonest intentions through breeding. Her main goal was profit, profit, profit, and she didn't care a bit about the animals, except her breeding jill. She had no choice but to accept.
I bundled Kit7 into a box and took him straight to the vets. When he was assessed, we not only found out he had brain damage, but was also suffering malnutrition. After 4 weeks of hand feeding, hydration drips and medication trials, Kit7 finally improved, and on the 15th July 2009, he came home. We named him Kiwi, because he was fed on Kiwi fruit and meat mixes to raise his blood sugar.
For another 3 weeks after he came home, he was back and forth to the vets for medication and tests, and he started having seizures. He got worse and worse, and we thought his stay was going be a short one. But again, Kiwi pulled through. He improved day by day, and eventually we found medication that helped him. Today, Kiwi takes 13 different tablets and has a shot once a week.
He is clumsy, because of his brain damage, but also super-fast. So much that his body doesn't know when he's tired. We have to give him a sedative every evening to let his body rest. Without it, he would run himself to exhaustion. When we thought Kiwi had been through it all, he was diagnosed with adrenal disease at 7 months old. Rare, but vets said his hormonal imbalance contributed towards it. After 2 operations to save him, he was pronounced fit again.
But he was thin, balding and exhausted. He now takes medication for the adrenal disease, and hormone shots to help his fur grow. Despite all he's been through, Kiwi is the happiest, bounciest, most playful and loyal ferret anyone could ask for. He never leaves my side, comes to work with me, goes to bed with me, and eats underneath my chair when we have meals. He is the most gentle little thing, plays with people, animals, and even insects without making a scratch. He melts the heart of everyone who meets him, and has a never-ending list of friends. For a one year old, he's been though more than most ferrets see in a lifetime. (And cost me a fortune in vets bills.)
After all he has been through I think Kiwi deserves the world. I can't give him that. I can only give him my love and care. But I hope this makes everyone think about how suddenly they could lose their furries, or their family for that matter. Treasure every day you spend with them, give them all the love you can, and never let them go. You don't know what you've got in life until something threatens to take it away.
Thanks you sooooo much for sharing your and Kiwi's story. We all wish you all the best Rachel. 🙂