Loki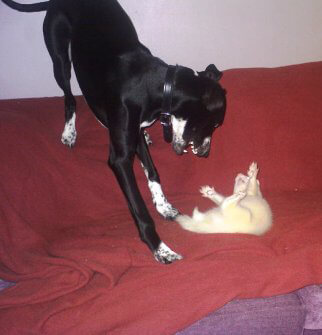 Ferret Of The Month September 2010 goes to a ferret who loves to play with its pet dog! Loki – happy Ferret of The Month!!!
This was a photo which was uploaded to the Ferret-World Facebook page . Come to think of it I reckon Jet (the gorgeous puppy) should get dog of the year for being such a great sport and playing with his ferret friends.
Shele and her partner (the owners) should get owners of a lifetime awards for always contributing funny stories and great photos to the Ferret-World Facebook page!
Shele is on there all the time and has become one of the biggest contributors to the community! Thank you Shele for your great participation!
Here is what Shele had to say about this photo:
"I love this pic lol! Jet- Do you surrender fert! Say it…say it! Dogs rule and ferrets drool! Loki- Erm………..hahahahahahaha…..no way dawg….'ere gimme a hug..lol.."
Thanks for always making us giggle Shele! Keep them coming 🙂