Morphine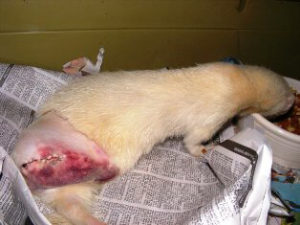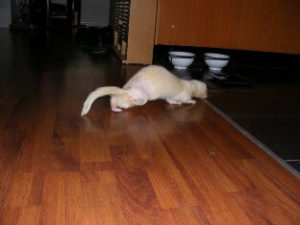 Ferret Of The Month February 2011 goes to Morphine!
Happy Ferret Of The Month brave boy!
This Ferret is one brave boy! It is simply amazing how quickly he recovered from such an injury. Well done to his wonderful parents and vets who looked after him all the way back to recovery. He really is an extraordinary ferret!
Here is what his owner Abby had to say about him:
" mystery injury! we don't know how he broke his leg, The house is ferret-proofed as far as we know, one day I just noticed he wasn't walking properly, and took him to the vets, they x-rayed and it was broken at the hip! no idea. The only thing I can think is maybe he fell inside the cage which is a three level cage with ladders and such. But he's had that cage for like 6 years and never had a problem. Anyway we ditched the cage just in case and bought a new one which has a ramp. =}"
The amazing thing is that in 3 weeks after his surgery he was up and running again! Thank you so much for sharing this remarkable story with us Abby! You are very lucky to have such an amazing ferret!