Neytiri, Meshoe, Chi Chi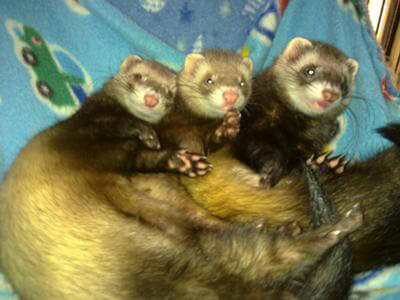 I love this pic! These ferrets are so adorable and it takes real skill to catch 3 ferrets sitting still for a picture…well done Sheryl!
This is what Sheryl had to say:
We got the end right Ferret Neytiri Xmas Eve at 8 weeks old and fell in love with the things she would get up to and most of all the love she gave us. She is the one with the eyes wide open. Then we looked for another one to go with her.
So off to what I call Ferret Play Group, a get together of The NSW Ferret Welfare Society and anyone else that wants to go too. So this is where we met Iris now named Meshoe.
We grew to love her and her jumping around and her showing off to us. Who could not love something trying so hard to get your attention? She is the Centre Ferret. Telling you shhhhhhhhhhhhhhh
And yes there is a 3rd one there the left end one Chi Chi she was shown to us aswell and we fell for her too. She is quiet and a real lady. She is the one that has her eyes shut. So from going to look at a 'maybe' new member to our Clan and show Neytiri other ferrets and see how she would be with other ferrets. She did very well and made 2 friends and they are all happy together.
Came home from shopping and saw them all like this had to get the pic and this was just after 2 days together. They look out for each other and jump and run everywhere. Steal whatever they can and hide what ever they can. Poor cats know now to stay 2 feet off the ground and watch what is going on.
Much better than a Ferret trying to drag you by the tail or ear to hide you under the Couch. WHO NEEDS TV! Just get a FERRET and giggle for hours. My house has not been the same since we got them, but must say it is for the better!
I have to agree with you there Sheryl…ferrets are definitely better then TV!!!