Nips
By Stef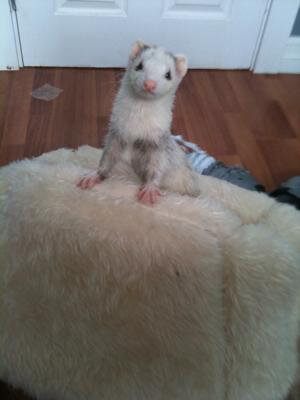 Ferret Of The Month June 2011 goes to Nips!Happy Ferret Of The Month pretty girl!!! Congratulations for winning the ebook ' 101 Ferret Games & Homemade Ferret Toys '!!!
This is one very special girl! She is very loved by her owner Vicki who has tried over and over again to get her fuzzbutts to win! Well I guess you got lucky! Nips is now the winner of FOTM June 2011! Yipee!
She looks so cute in this picture! Posing for the camera.
Here is what Vicki had to say:
"No story to tell I suppose. Just wanted to share my ferrets beauty. This is Nips posing for the camera like always. She definitely knows that shes all that!! She is the `bad` one of the bunch!"
Congratulations once again and thanks for sharing! Hope you and your furkids enjoy the ebook! 🙂