Yahtzee, Peanut and Sir Hamish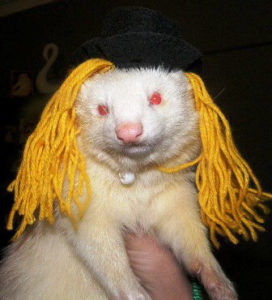 These were photo's which were uploaded to the Ferret-World Facebook page These three ferrets sure know how to dress up for Halloween! Loving the costumes.
So some of you are wondering why there are 3 FOTM's this month. Well the explanation is simple…I could not make up my mind as to who had the best costume, so I decided to make all three winners!
Congratulations to our three winners and their owners!
Yahtzee – Lady bugPeanut – WitchSir Hamish – Yellow hair
Thanks for entering guys! 🙂