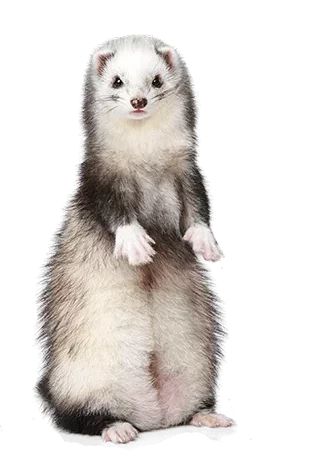 Ferrets are not for everyone
Unfortunately, a lot of ferrets get bought on impulse and then end up in shelters because the owners didn't research the type of animal they were and the special care and attention that they require. We recommend reading as many articles on this website as possible to get a good understanding of what you are getting yourself into. Our mission is to provide you with the best information on ferrets as possible to prevent ferrets unnecessarily ending up in pounds, or shelters and make sure they are ending up with people who will do the best for them throughout their lives to make sure they stay happy and healthy.
With the right environment, training, and handling, ferrets can be a delightful addition to your home.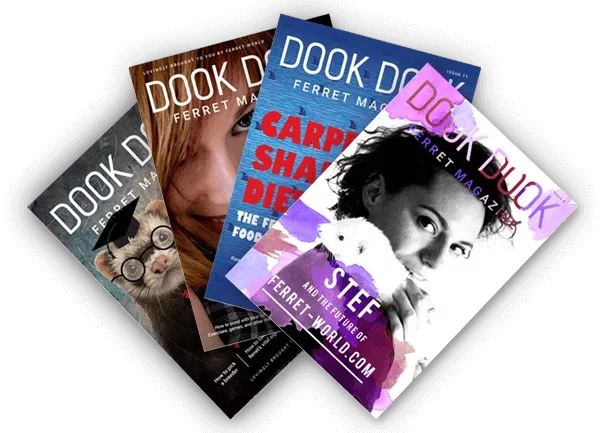 Helping Your Ferrets Live Healthier, Happier Lives
Join other ferret owners and experts and get access to Dook Dook Ferret Magazine, Ferret-World Members Community and other Resources!
Like most predators, ferrets conserve their energy by sleeping for much of the day, 15-18 hours a day. This means that when they are awake, they are literally bouncing off the walls with energy. Combine that energy with their insatiable curiosity and you have yourself an animal that is more predisposed to hurting themselves.
Ferrets are generally joyful, charismatic, and very playful animals that are known for the "weasel war dance," where they are so excited that they blindly jump and run in a playful frenzy. Due to their playfulness, comedic qualities ,and stubborn determination they have earned themselves a reputation in the ferret community for being furry antidepressants.
Ferrets are also very intelligent animals that require new stimuli and challenges daily. Without new and interesting things to find and do, they can become bored and depressed, which can lead to health and behavioral problems.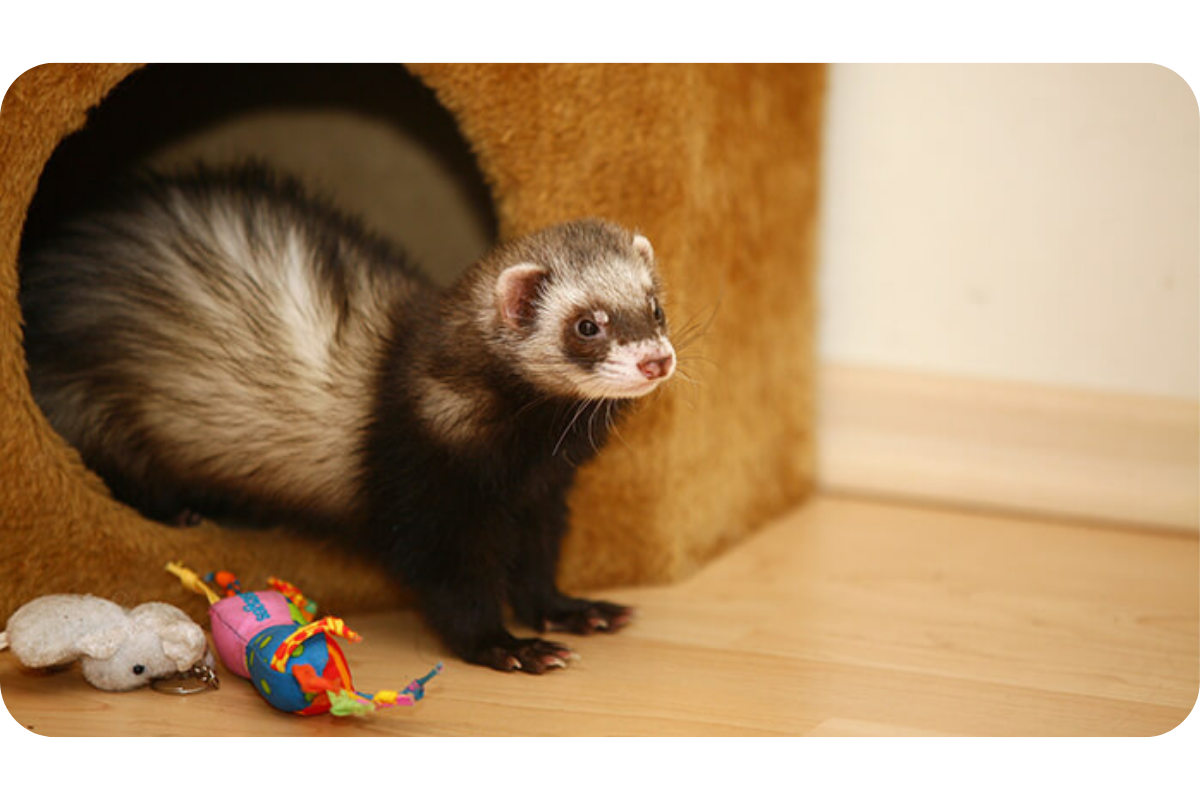 Healthy young and middle-aged ferrets are usually go-go-go when they are out of their cage. Because they sleep for much of the day, out-of-cage ferrets are full of energy and very frisky. They will explore everywhere in their environment, looking for new things to smell, items to steal, and other ferrets to play with. It is a big responsibility for the ferret owner, who must know where their ferrets are at all time, to protect them from accidentally injuring themselves. We recommend all ferrets have at least 4 hours of out-of-cage time a day, during which you should watch them like you would a toddler, making sure they don't get into trouble.
Because ferrets are smart and easily bored, their out-of-cage time cannot simply consist of them running around a room with the same toys for weeks on end. You should change up their environment as much as possible:
Switch out their toys regularly
Buy and make new toys
Take them for walks outside on a leash
Play games with them
The average ferret lifespan is 5-8 years, but there have been ferrets that have lived for up to 15 years. Keeping ferrets is a long-term commitment.
Ferrets are more time consuming then a cat or a dog. Playtime should be 4 hours a day, during which the ferrets should be closely supervised. You will also need to clean their litter boxes out every day, change and wash their bedding once a week, and fully clean their cage once every one or two weeks. If you choose to feed them a raw food or whole prey diet, you will need to spend a significant amount of time planning and preparing their meals. Educating yourself about ferrets doesn't stop when you get a ferret; as new research emerges, you will need to keep yourself up-to-date on what will keep your ferret happy and healthy. You will also need to ferret-proof your home, a process that typically never ends, since ferrets will often eventually find a way around your safety measures. Ferret ownership, when done right, really becomes more of a lifestyle.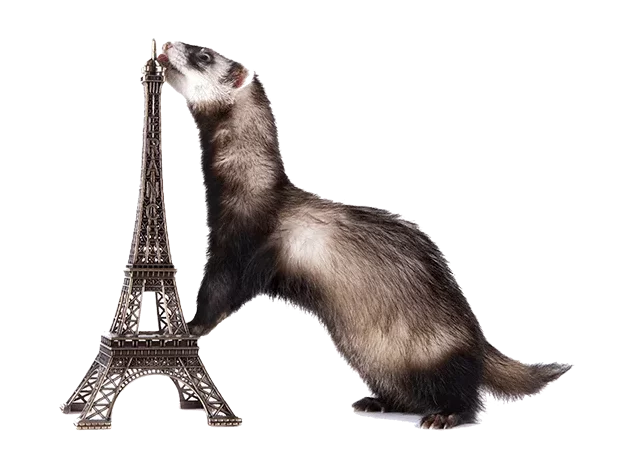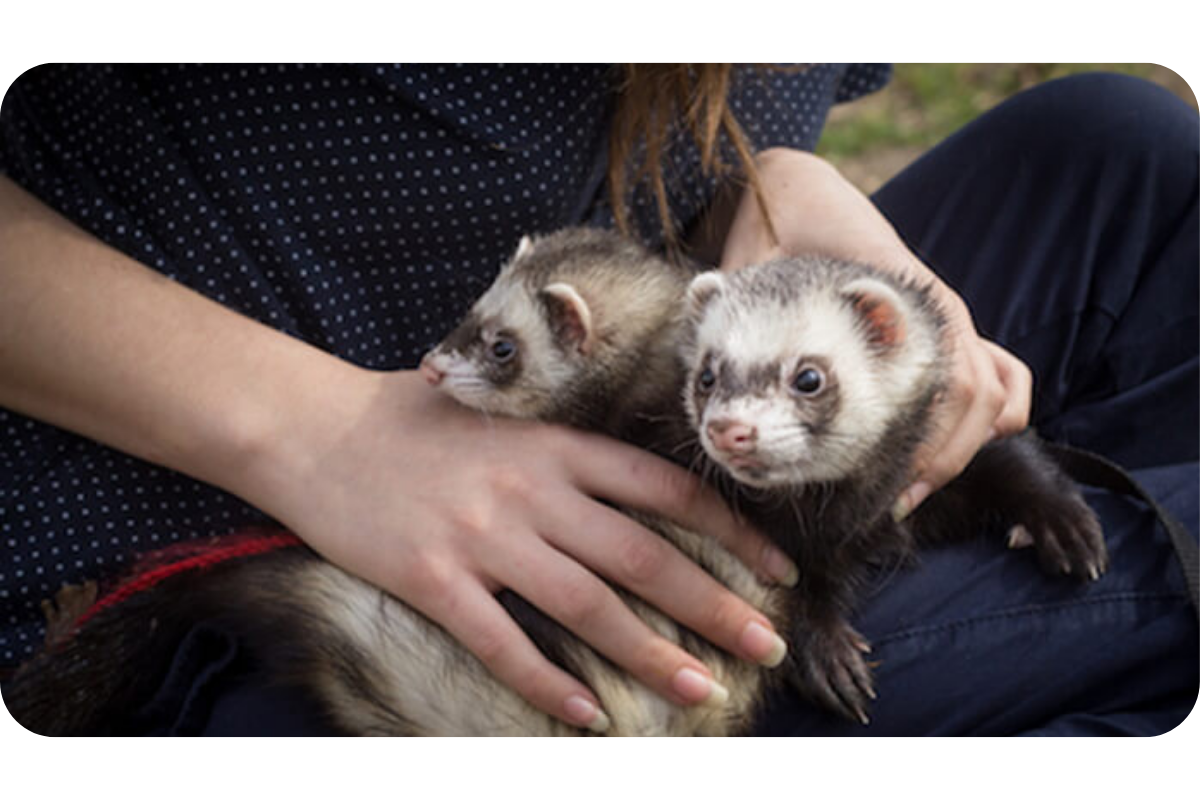 Ferrets are energetic and courageous animals, but their unique skeletal system also makes them fragile. A ferret needs to be held so that their full weight is supported and no pressure is being put on the spine. The bones in a ferret's limbs are also small and light, making them prone to fractures if the ferret is dropped or stepped on. This is why small children and ferrets don't mix very well. A small child may grip or drop a ferret, leading to injury or death. In addition, like any animal, if a ferret does not like how a child is handling them, they may bite and injure the child.
(While you may have heard sensational stories about ferrets attacking children, ferrets are much less likely to bite children than dogs are. Incidents in which ferrets have seriously injured children are the result of both the child and ferret being neglected and/or abused.)
We do not recommend allowing very small children to play with ferrets, even while supervised. A child should have fine motor control, self control, and knowledge of how to properly handle a small animal before they are allowed to freely play with a ferret under supervision.
Ferrets and other animals
Ferrets are predators that were domesticated over 2,500 years ago to hunt rabbits and other small rodents. We do not recommend keeping predator and prey animals in the same home. If you have a ferret, you should not have any prey animals as pets, including rabbits, hamsters, rats, or mice. Even if your ferret never harms a prey animal, the prey animal can smell that the ferret is a predator. This will cause undue stress in the prey animal. In addition, even if your ferret is gentle and sweet, their instincts may cause them to attack the prey animal at any time.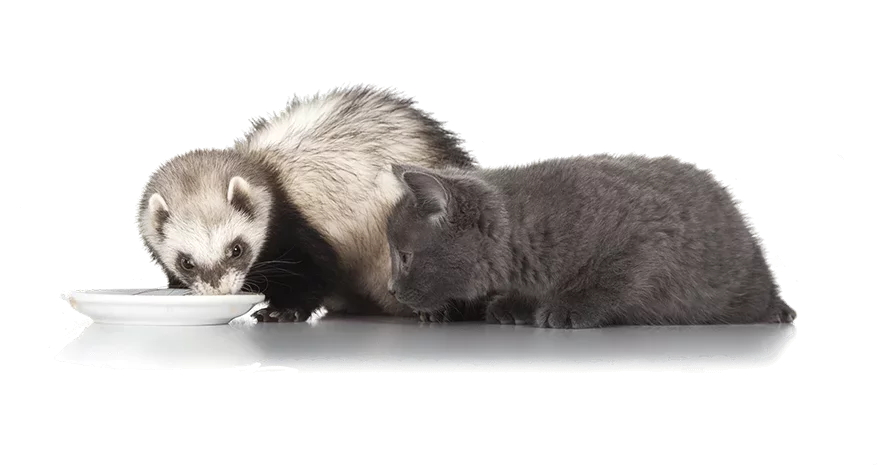 Some ferrets get along very well with other predators, particularly cats and dogs, but this is usually the result of the animals growing up with each other, as well as proper training and socialization. Many cats are afraid of ferrets and will be extremely hostile. Many dogs, particularly large ones, accidentally harm ferrets when trying to play with them. If you are thinking about adding a ferret to a household with a dog, we recommend you meet with a credible dog trainer to come up with a plan on how to introduce the two animals in a way that does not endanger the ferret.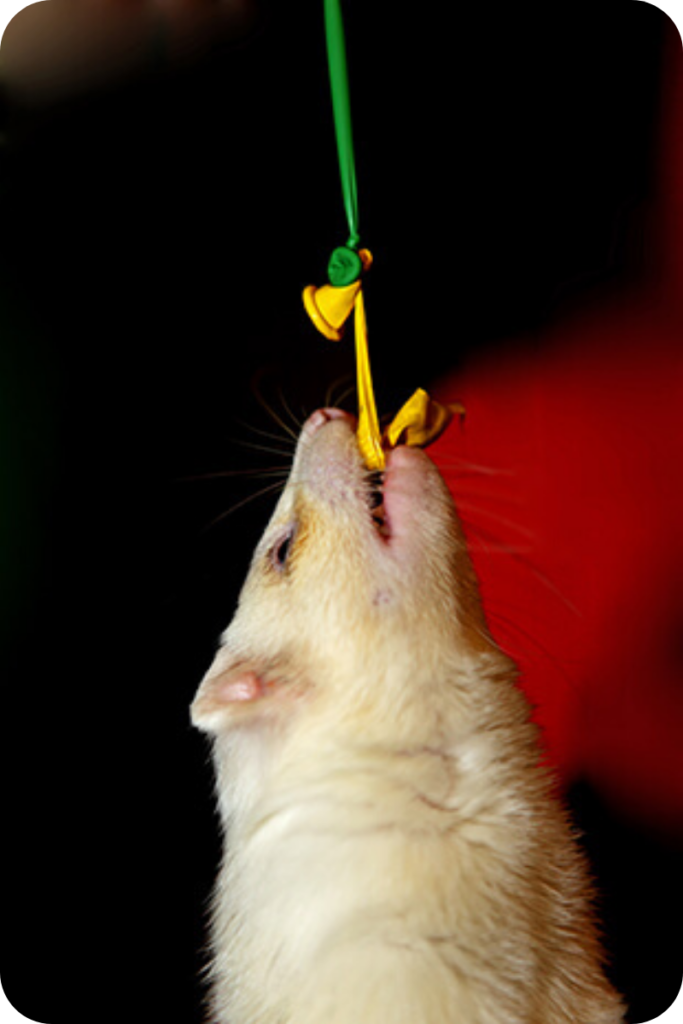 Ferrets are known for their energy, curiosity, and getting into things they are not supposed to. This combination of traits makes them prone to injuries. You must supervise your ferret carefully to ensure they do not harm themselves or ingest anything they shouldn't. You may also need to ferret-proof your home, blocking your ferret off from dangerous areas like the insides of cabinets, behind your fridge, or near a washing machine and dryer. You will also need to protect hazards that your ferret may chew or ingest, such as electrical cords or cleaning agents. When ferret-proofing your home, consider the following:
If your ferret can fit its head through something, they can fit their entire body through it. Block off holes, tubes, and cracks that lead to hazardous areas or where you would not be able to pull the ferret out.
Never underestimate your ferret. They are smart and curious. They will learn and improvise to find their way around your ferret-proofing.
Ferrets like dark holes and tunnels, so they will often tunnel under rugs, mats, piles of closes, and under your bed. Watch out for them when walk or you may step on them by accident.
Learn what textures your ferret likes to stash, chew on, or digest. Some ferrets like to chew on (and accidentally ingest) fluffy things like stuffed animals in bedding, some like rubber and silicon items, some like plastic, etc. If your ferret chews on certain kinds of items, keep them where your ferret cannot get them. Intestinal blockages are very serious and may require surgery.
Ferret owners will usually tell you that they don't find ferrets' smell offensive. However, to the untrained nose, they do have a unique, musky smell to them. If possible, we suggest visiting a ferret shelter to see if you are able to cope with the smell.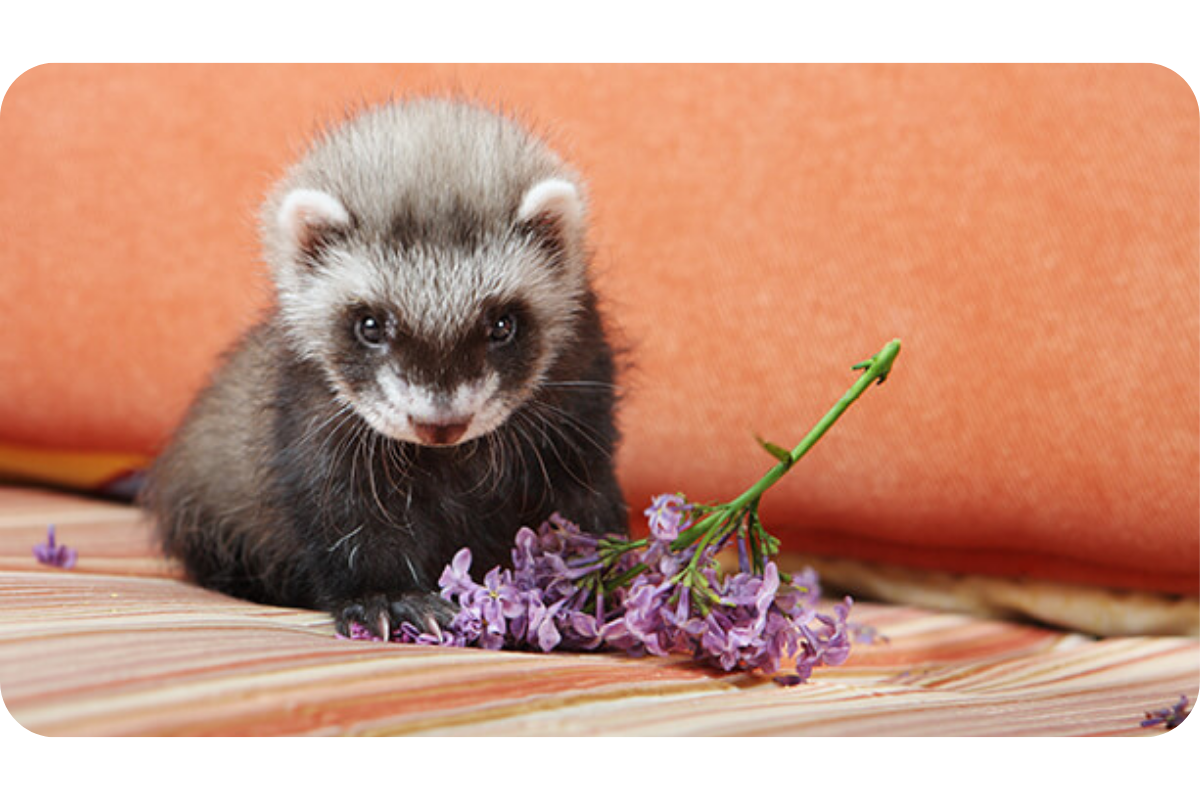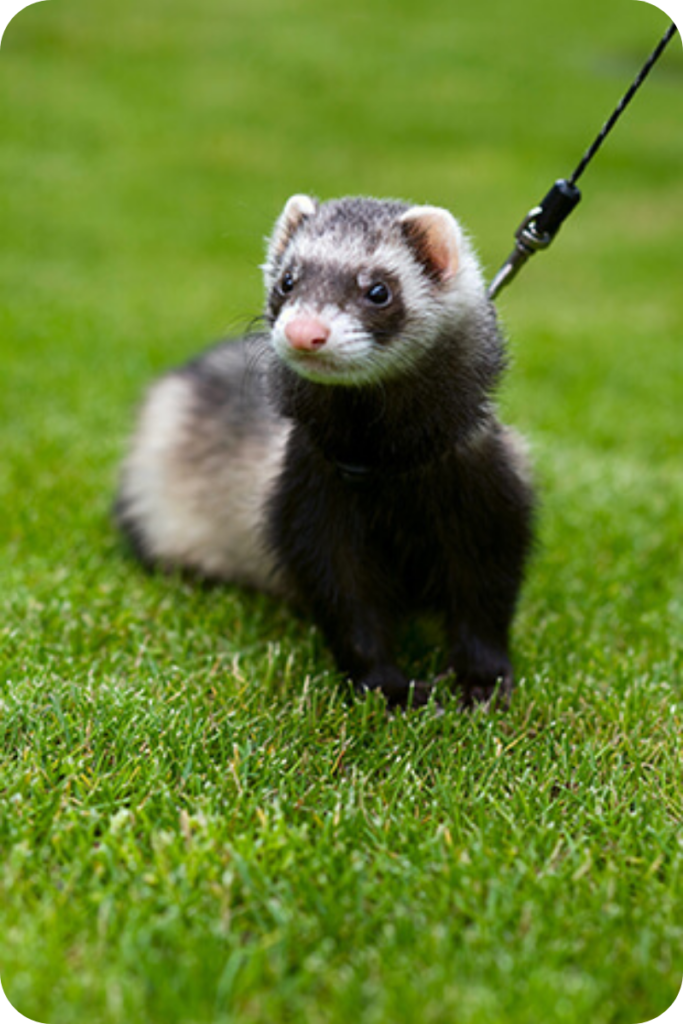 In some places around the world, ferrets are illegal to own or require a permit. Be sure to check whether ferrets are legal where you live before getting one; illegally owned ferrets can be confiscated and killed.
Ferret vets and vet bills
It can be hard to find a vet that specializes in ferrets. Unfortunately not all vets know about ferrets and can make some very serious mistakes in their care. It is important for you to do your research and make sure there is a credible ferret vet in your area. Ferrets need to see a vet at least once a year when they are young and healthy. They will need to visit the vet more often when older or ill.
Since ferrets are considered exotic animals and few vets will treat ferrets, vet care can be much more expensive than it would be for a dog or cat.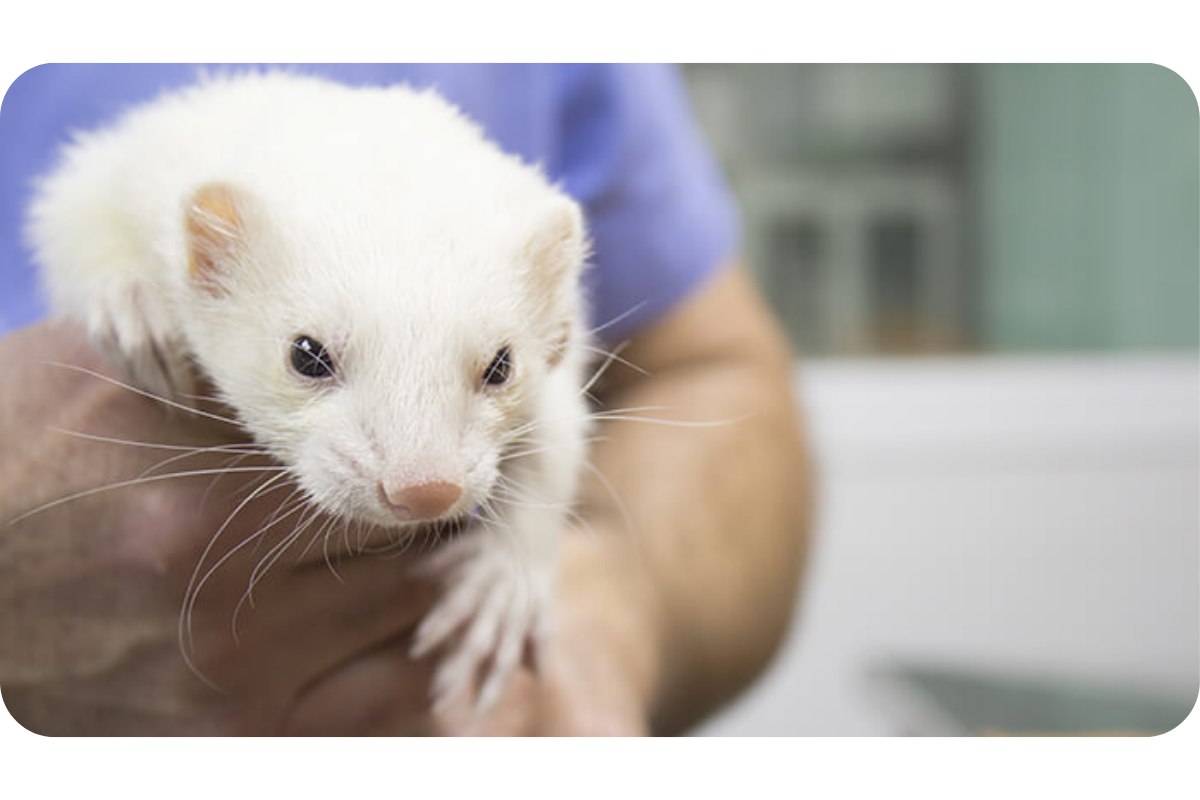 If you don't intend to breed your ferrets, then they will need to be de-sexed or chemically castrated via the Suprelorin® F (deslorelin acetate) implant. We do not recommend that first-time ferret owners breed their ferrets. This is particularly important for female ferrets, who will stay in heat until they are bred. If they are in heat too long, they will develop aplastic anemia, which is usually fatal. Male ferrets will develop aggressive behaviors and a very unpleasant smell if they go into heat.
Ferrets should be vaccinated for canine distemper. This disease is almost 100% fatal in ferrets and can be transmitted to ferrets by anything that has been outside. In some localities, you may also be required to vaccinate your ferrets for rabies.
Bringing a ferret into your home is a big responsibility, and a lot of self-education is required to meet that challenge. But welcoming a ferret into your life can be one of the most rewarding experiences, if they are a good fit. Doing the research, visiting a shelter, and becoming a part of our ferret community will help you decide if this commitment is for you. And once you take the leap, we've got plenty of resources to make the experience safer and more rewarding.