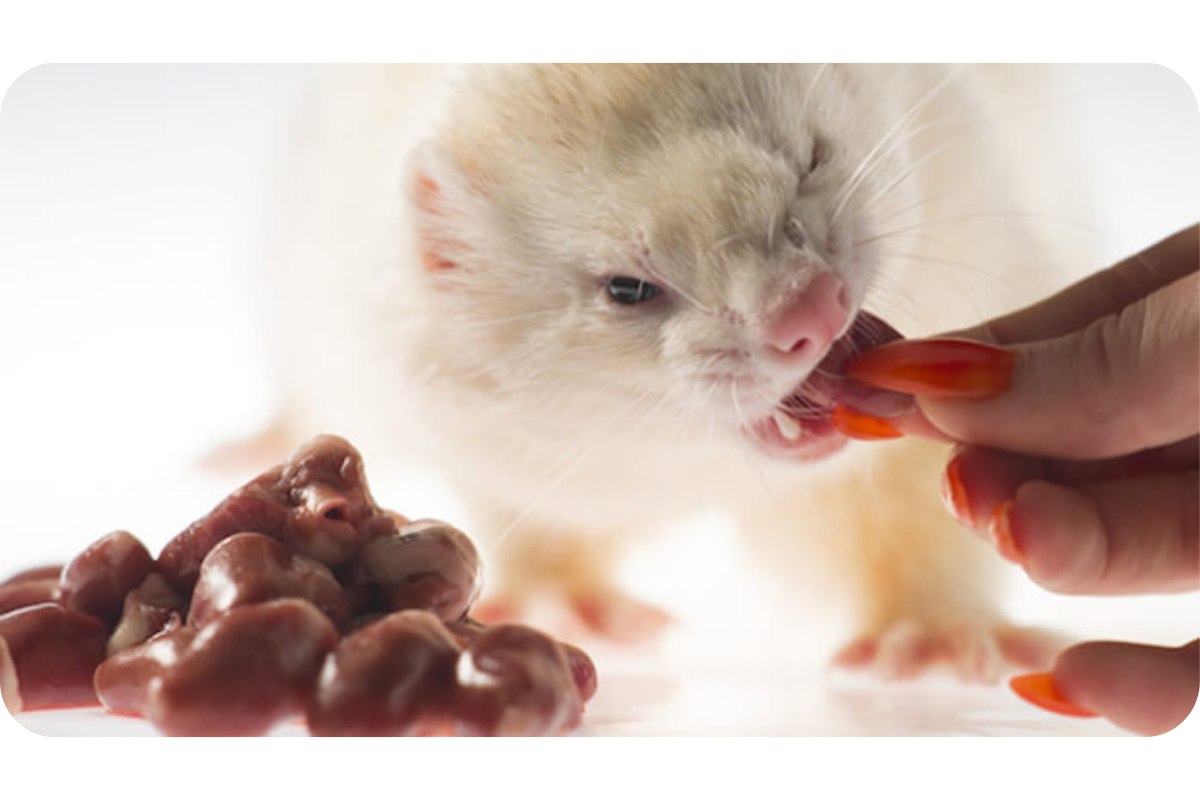 Happy, healthy ferrets eat approximately every two hours. According to the Pet Food Manufacturers' Association, the average ferret should eat 5–7% of their body weight a day. Eating less than this can indicate boredom, illness, or pain.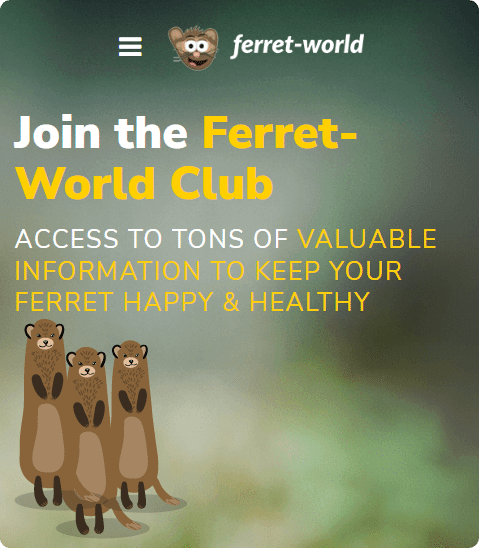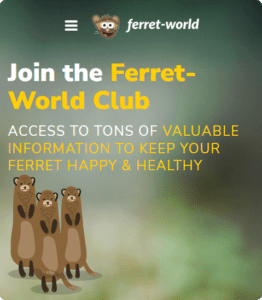 When a ferret grinds her teeth while eating, this indicates pain in her abdomen, teeth, or jaw. If your ferret grinds her teeth, take her to the vet.
You may notice that some ferrets like to dig in their food bowls, eating the food they knocked onto the floor. Some ferrets are "snorkelers," sticking their snouts and/or front feet in their water bowls. Neither of these behaviors indicates boredom or anxiety.
A happy ferret (one who is not in pain or emotional distress) is active. A bored ferret who spends too much time in her cage may sleep up to 21 hours a day. According to Peter Fisher in Exotic Pet Behavior: Birds, Reptiles, and Small Mammals, healthy ferrets in lab conditions spend 60% of their time sleeping, approximately 15 hours a day. Sleeping patterns will vary with the seasons (ferrets sleep longer in the winter) and age (older ferrets sleep more).
Ferrets appreciate variety in their sleeping spaces. If a ferret sticks with a single sleeping space over a long period of time, there may be something wrong. They may be bored with their sleeping options or they may be avoiding a cagemate.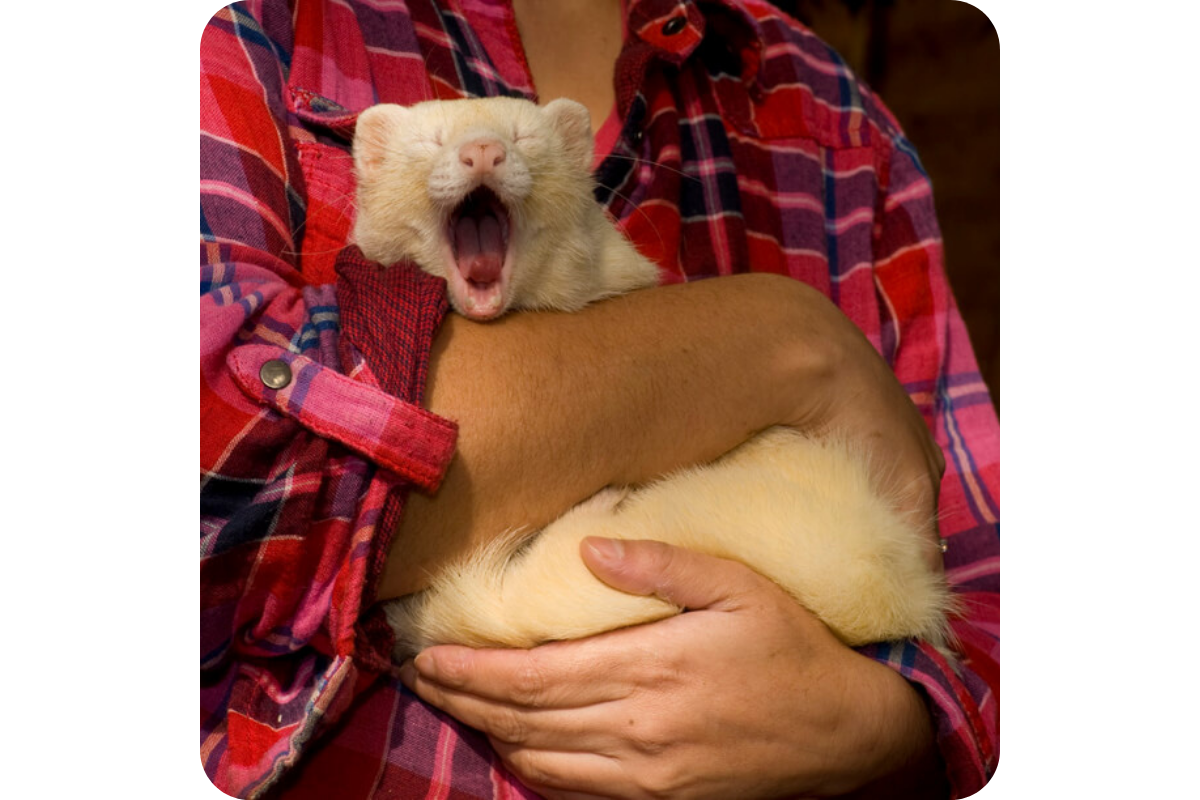 If cagemates are usually sleeping apart, this can indicate a lack of bonding. These ferrets may need different territories (cages or rooms).
In some animals, yawning can be a sign of pain, but yawning is normal in ferrets. Many ferrets wake up with a yawn and a stretch. Most ferrets will also yawn when scruffed by the neck.
Ferrets have some sleep behaviors that look worrisome but are actually normal. Ferrets sleep in a variety of positions, some of which appear very uncomfortable to their humans. Bonded ferrets will often sleep together in a "pile," leaving their humans afraid that some of them can't breathe. Finally, ferrets will sometimes go into "dead sleep," a sleep so deep that they won't wake up even when prodded and moved. As long as your ferret is breathing and wakes up eventually, you don't need to worry about dead sleep. However, if your ferret's behaviour has suddenly changed and you notice them dead sleeping more frequently than normal, then it could be an indication of some underlying health issue. This is when it is best to take them to the vet for a checkup.
Healthy ferrets are fearless explorers, compelled to thoroughly scrutinize any new object or unexplored location, whether it's a box, open cabinet, or a hole in a baseboard. Ferrets also have digging instincts, which is part of their desire to explore everything around them.
Ferrets explore first by scent. Fisher claims that "objects placed directly in front of a ferret will be examined first by smelling, followed by visual or tactile inspection." Ferrets are most attracted to moving objects and objects close to them. If a ferret is not engaging in exploratory behaviors and is ignoring new stimuli, she may be ill or in distress.
Ferrets are territorial. Intact ferrets will, like cats and dogs, mark their territory with their urine and skin oils (by rubbing their sides against objects or the ground). You won't see this behavior in ferrets that have been desexed. However, even desexed ferrets can be possessive of their food, toys, hiding places, and sleeping places.
If you give ferrets treats or food they love, they may fight over it, even if there's enough of it to go around. They are more likely to fight with other ferrets, but they may also be possessive of their food with new and unfamiliar humans. Ferrets also commonly stash food throughout their territories, a concern if you give your ferret any food that's perishable. Even if you only feed your ferret kibble, this behavior can attract bugs and other pests.
Ferrets will often become highly possessive of their favorite toys and objects. You may notice that individual ferrets develop a preference for certain textures, materials, and objects.
For example, so ferrets love stuffed animals, others are fans of rubber and silicon. Some ferrets love to steal pens, others clothing, plastic bags, bubble wrap, wallets, and even tampons! They will steal and hide their favorite objects and toys, attempting to keep them from humans and other ferrets. If you find your ferret's stash and spread the toys around the house, you'll see your ferret frantically moving everything back to a hiding spot!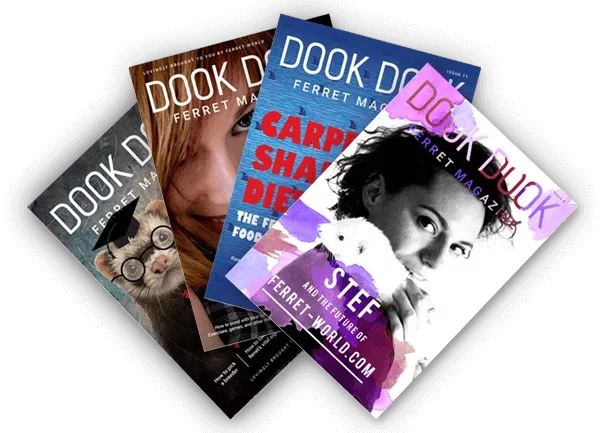 Helping Your Ferrets Live Healthier, Happier Lives
Join other ferret owners and experts and get access to Dook Dook Ferret Magazine, Ferret-World Members Community and other Resources!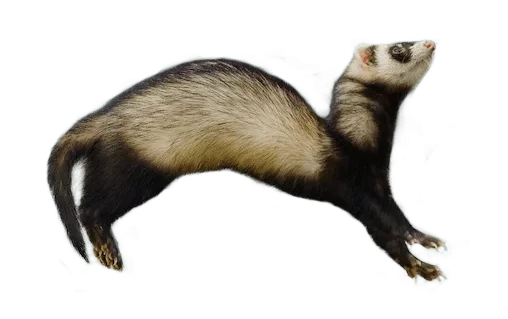 Happy ferrets like playing with their humans. According to Fisher, "a ferret that jumps back and forth in front of you and nips at your feet is telling you it wants to play. Simply getting down on your hands and knees and chasing a ferret will stimulate more ferret dancing and happy vocalizations, chuckling, or dooking." Jumping, the "weasel war dance," and dooking are all play behaviors that indicate excitement. Ferrets at play also enjoy chasing and digging.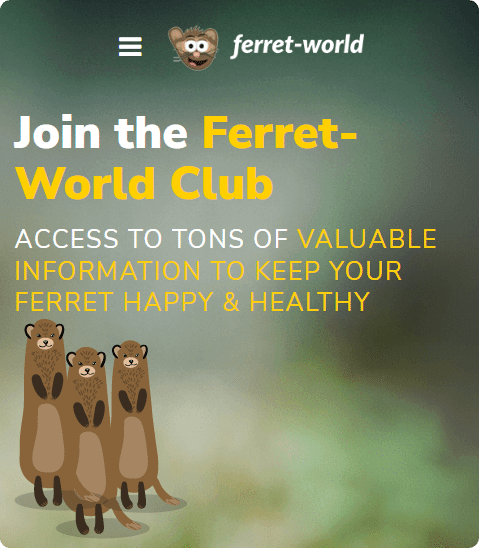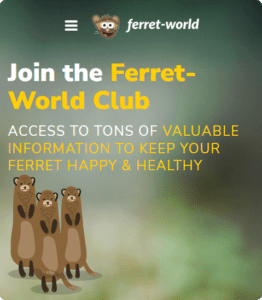 Fisher describes a typical play sequence between two ferrets as beginning "with the chase, followed by an exaggerated approach or ambush, veering off, and reciprocal chasing, followed by mounting, rolling, and wrestling with inhibited neck biting." Ferrets will also engage in what Fisher calls "subdued aggressive behavior" like "arch[ing] its neck and back and shov[ing] itself sidelong into the other," "nose poking, ramming another ferret with mouth open, and defensive threats in which the ferret stands very erect with back arched and tail possibly brushed up." Happy ferrets who enjoy playing with other ferrets may engage in all these behaviors. As with human children, ferrets may sometimes need their human to step in and stop harsh play.
When to break up ferret play
Many new ferret owners find it difficult to distinguish between "play" fighting and "real" fighting. So when should you break up aggressive ferret play?
You should break up ferret play if any of the following happens:
One ferret immobilizes another ferret by biting their neck for longer than a few seconds.
One ferret bites another ferret's neck and either shakes or drags them.
Only one ferret is engaging in play/fight behaviors while the other ferret is continually fleeing.
Either ferret urinates or defecates without backing into a corner first, i.e. during play/fighting.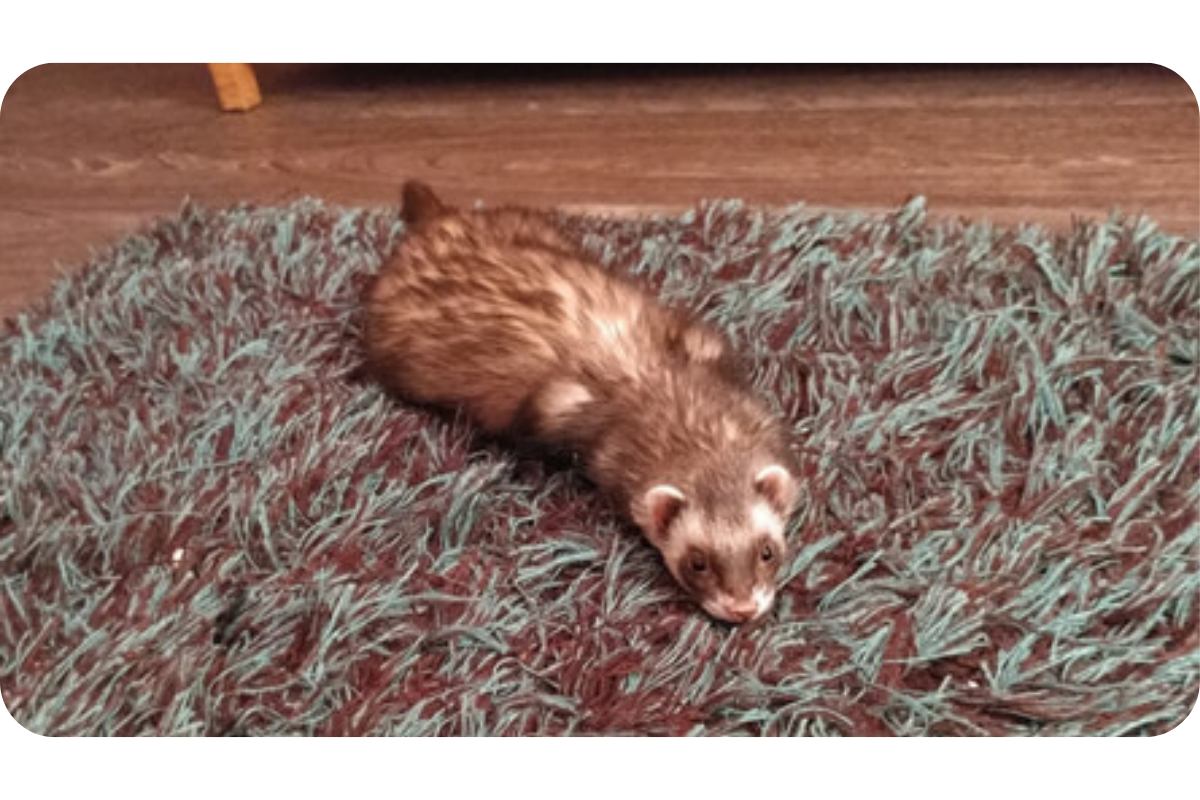 Blood is drawn by either ferret.

One or both ferrets engage in extended hissing. Occasional hissing is normal during play.
Either ferret makes a "screaming" noise.
If the ferrets you're introducing engage in ANY of these behaviors, it's not a good idea to house them together. Continue to introduce them to each other under supervision, watching for signs that they won't eventually accept each other.
While some ferrets are quieter than others, typical happy ferrets regularly engage in dooking or chuckling. Fisher claims that dooking is "the most commonly used ferret vocalization" and it "usually signifies happiness or excitement[…] The greater the excitement level, the louder are the intensity and volume." Ferrets will also dook when they are frightened or in pain (usually because they've gotten their claws stuck in something while playing), but it is easy to tell the difference between happy dooking and unhappy dooking. Not only are the sounds different (unhappy dooking is higher pitched and faster), but a happy dooking ferret is typically jumping and dancing, whereas an unhappy dooking ferret is usually backing away or flopping around in a panic.
In the middle or after play, ferrets will often "speed bump," lying flat on the floor with their heads down and their legs pointed outward. This is a normal behavior displayed when the ferret is taking a break from play, is tired from play, or has had a toy taken away.
If a ferret is often inactive, only explores or plays for an hour before lying down for a nap, or sleeps for longer than 18 hours a day, they are probably bored and not stimulated enough. They may also be ill, in pain, or in emotional distress. Try adding more stimulation to their days and bringing them to the vet if they do not improve quickly.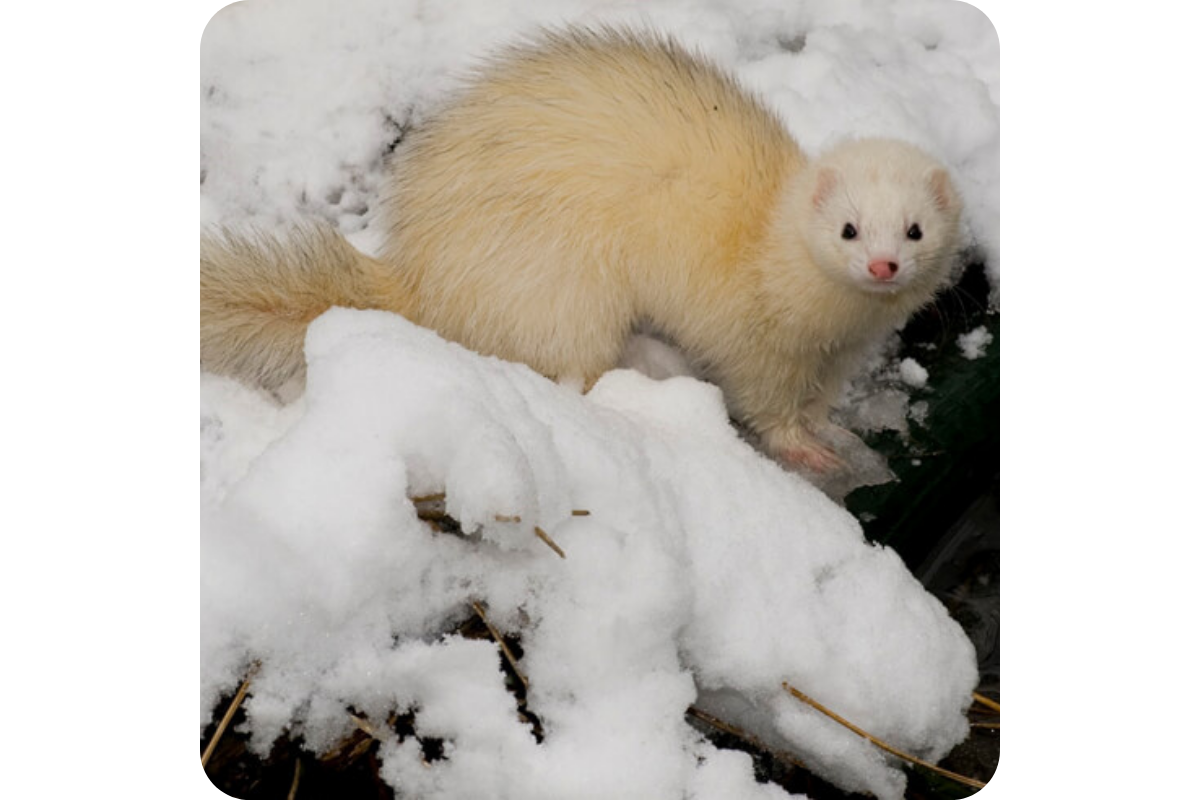 Like dogs and cats, ferrets show their fear and annoyance with their body language. It is usually easy to read once you know what to look for.
Biting. Most nipping is not a sign of aggression from ferrets. They engage in fairly rough biting with each other during play and, perceiving a human as a playmate, they may not understand that human skin is more sensitive than ferret skin. Fisher recommends "frequent handling in a quiet, subdued environment, along with behavior modification in the form of positive reinforcement, time-outs, and counterconditioning" and cautions that you should "never incorporate physical punishment into your behavioral modification route," as this "may cause a frightened or excited ferret to become even more frenzied."
Another reason for biting may be that your ferret thinks your hand lotion or other beauty product smells yummy.
Fisher says that "some ferrets love the smell or taste of nicotine and may react by biting the smoker's fingers."
While there are many reasons for a ferret to bite, they will also bite out of fear or annoyance. You should view biting in context of the rest of their behavior and body language to determine the cause of, and ultimately the best solution for, their biting.
Bottlebrush tail. A poofed-out (bottlebrush) tail usually indicates irritation or fear. A bottlebrush tail is a ferret's attempt to look larger and scarier in response to a threat, whether it's a playmate jumping at them unexpectedly or a loud noise. However, some ferrets will get a bottlebrush tail when excited.
Defecation or urination. A frightened ferret may defecate or urinate out of fear. This is an extreme reaction and indicates that a ferret may not be safe to approach or try to comfort. Remove whatever is scaring the ferret and allow them to escape to somewhere that makes them feel safe.
Hissing. Fisher claims that hissing is used "to convey anger and frustration, but it can also denote fear or be used as a warning signal. It can be a short burst that warns a playing partner, 'Hey, that hurt, back off a little,' or serves as a fear response, forewarning that 'my guard is up, be careful.' Prolonged hissing usually indicates frustration."
Poofing. An annoyed, scared, or even overly excited ferret, if they have not been descented, will "poof," or express its anal sacs, much like a frightened dog might. This scent will dissipate very quickly.
Screaming. Fisher says that "a high-pitched screech is used when a ferret is startled, frightened, or in pain. […] Prolonged screaming is an indication that something is seriously wrong and may occur when a ferret is in intense pain; such screaming has also been reported to occur during seizures. All cases of continual or recurrent screaming warrant a medical workup."
Signs of pain in a ferret are subtle and ferrets may act normally outside of some of their symptoms of pain. Fisher identifies the following as signs a ferret is in pain:
Is squinting her eyes
Is reluctant to sleep in a normal curled, relaxed sleeping position
Has a "tucked appearance to the abdomen and a strained facial expression"
Has labored breathing ("frequency and depth of respiration" are both elevated)
Is lethargic and reluctant to eat
Grinds her teeth, either when eating or not
Is "hunched with an arched back, immobile, or walking with a stilted gait," which all indicate abdominal pain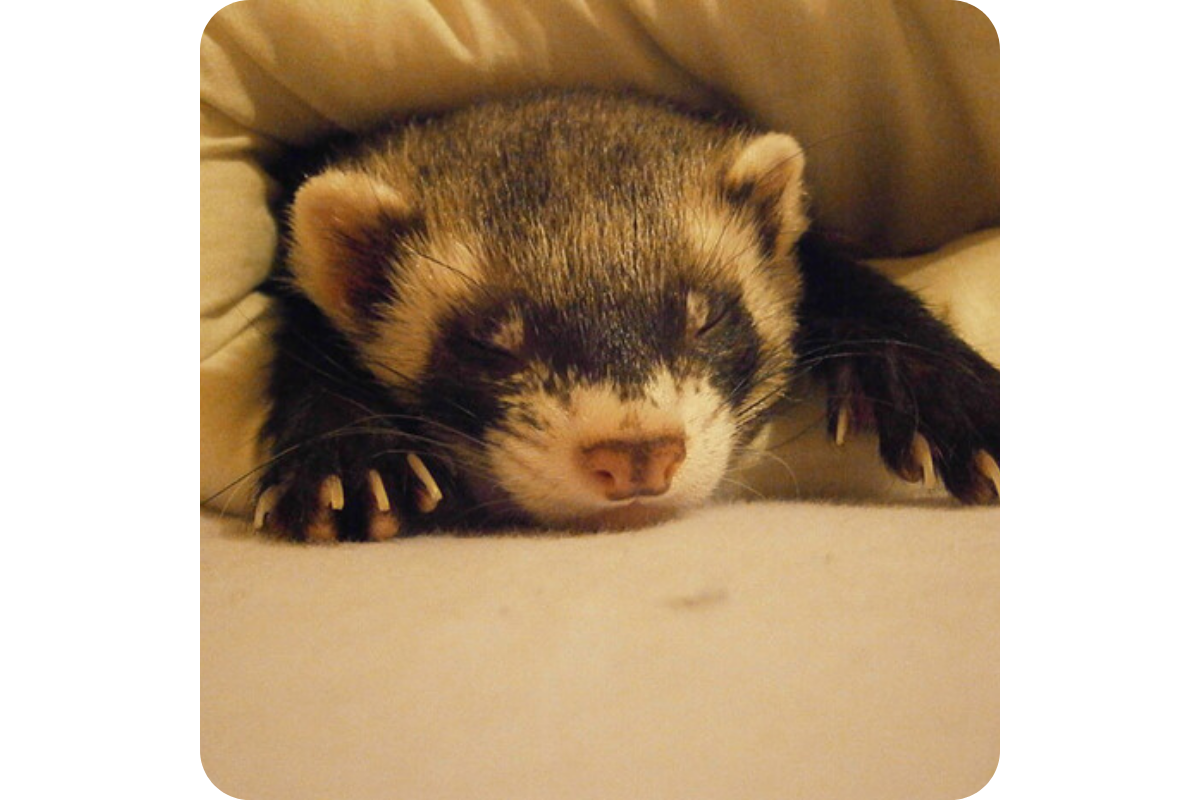 In addition to watching for the signs above, it's important for you to know what's normal and abnormal for your particular ferret! If her behavior changes, then you should try to determine if the changes are the result of boredom, emotional distress, fear, or pain. If you believe it may be pain, bring her to the vet for a checkup. Like many domesticated animals, ferrets try to hide pain and vulnerability, so if you're seeing any signs, the ferret is probably very uncomfortable. If you believe your ferret is bored, in distress, or fearful, change her environment to help her be more comfortable and happy!