How are ferret shelters coping with COVID-19 and its massive impact?
By Stephanie Warzecha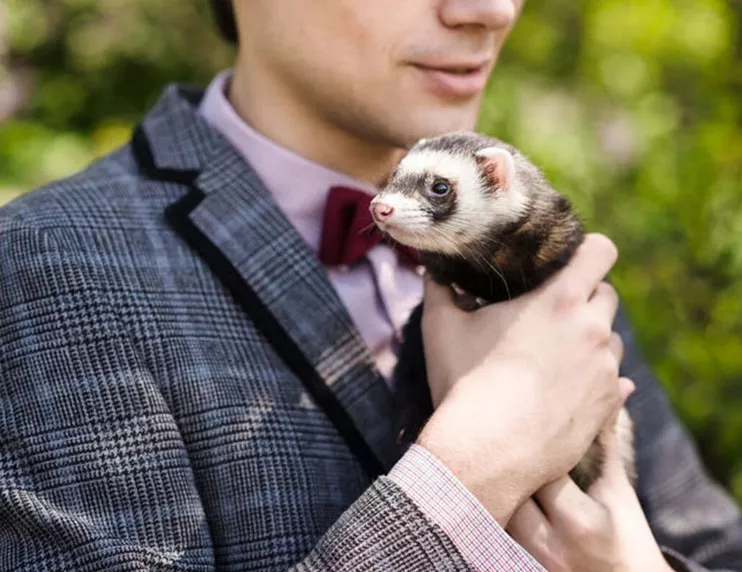 During the best of times, ferret shelters work tremendously hard to be the last line of defense for many ferrets who are surrendered by their families. A lot of work goes into running a ferret rescue: feeding and looking after the ferrets, taking on new surrenders, rescuing emergency cases, vet care, adoptions, and financing the shelter. Personally, I cannot fathom how much work a shelter requires. Shelter work is also emotionally taxing, as shelters bear witness to ferrets dying and cases of neglect and/or abuse. It's a really tough lifestyle.
I wanted to check in with ferret shelters to see how they were doing during these turbulent times. Because they do such vital work in the ferret community, it's important that they are able to continue operations during and after the COVID-19 pandemic. I encourage you, our readers, to support your local shelters in any way that you can. Even if all you can do is call a shelter and ask them if they need supplies or help, every little thing helps! We all have much greater chances of thriving through challenges when we support each other. I know, from being in the ferret community for over 12 years, that we are very good at this.
Editors' note: These interviews were done in June 2020. In this article, we use COVID-19 and covid interchangeably as terms for the global pandemic caused by the novel coronavirus.
Lorri Grecco
Nyota's Second Chance Ferret Rescue
https://www.facebook.com/NyotasSecondChance/
Donations and volunteers
We rarely ask for donations unless a baby is in need. The last few times we have asked, donations did come in. We have no need for volunteers. We are a very small rescue.
Changes due to COVID-19
Because of covid, we have implemented a "policy" to only take only emergency cases. If the family has hit extremely hard times because of covid, then we will take the babies in. We have also cut way back on transport.
As of today, we have not seen an influx of babies coming in but have gotten hit with lots of people wanting applications. Because of loss of income, I have seen a lot of people can't afford vet care or food. We usually go in order when we receive applications but because of covid, we are taking precautions and being a little stricter about where the babies are going.
Crystal Lynn Walko-Brandeburg, Director
Healing Hearts Ferret Shelter
https://www.facebook.com/Healing-Hearts-Ferret-Rescue-136117853106426/
Donations and volunteers
Donations have slowed down, but some trickle in here and there when I get an emergency surrender or stray. We learned how to make face coverings/masks, and we give them away and ask for a donation to the shelter. Some donate; some do not. Either way, they still get a mask if they want one. It has helped some. At this time, volunteers are staying home due to health concerns for themselves, us, and the ferrets.
Changes due to COVID-19
Adoptions have been put on hold until further notice. Surrenders are handled case by case, and if a ferret surrender is deemed an emergency or a stray, he will be taken in right away. Food has been provided to people who inquired about surrendering because they can't afford to buy food during layoffs and unemployment benefits were/are so hard to secure. This has happened twice, where we gave ferret food to people until their unemployment kicked in. We have worked with people to help them keep their ferrets.
In our facility, we are doing extra disinfecting and cleaning to fight the virus.
Additional changes
We have received a massive number of phone calls and emails from people wanting to adopt, but they know nothing about ferrets. Then they get angry when we tell them we have currently suspended all adoptions due to the virus.
Millie Sanders, Director
Texas Ferret Lovers Rescue
Donations and volunteers
We are still receiving donations. We are also still working with volunteers, but we're only letting the regular volunteers in at this time.
Changes due to COVID-19
We require masks and hand sanitizer for everyone and we schedule one appointment at a time to keep numbers down. I haven't noticed an increase in surrenders, but the number of adoptions has tripled.
Joan Lessard
Scheer Joy Ferret Shelter and Rescue
https://www.facebook.com/groups/585238905246897/
Donations and volunteers
People have not continued donating to us. With our volunteers, we feel the threat is minimal, but we take precautions like sanitizing hands and wearing face masks.
Changes due to COVID-19
We haven't noticed an increase in ferret surrenders, but pet adoptions seem to be on the rise in various sectors.
Christy Hamilton
Hamilton's Ferret Haven
https://www.facebook.com/hamiltonsferrethaven/
Donations and volunteers
Financially, we aren't really supported by the community when it comes to donations, whether it is a birthday fundraiser or a request for help. Sadly, there are travel restrictions right now, and because of our location, volunteers cannot come to our shelter.
Changes due to COVID-19
We don't allow visitors these days.
Additional changes
We haven't seen more surrenders due to lost income. Adoption requests, including surrounding states, have been nonstop. Because people are home, they are suddenly wanting to impulse buy/adopt ferrets, yet they have no knowledge of how to care for a ferret.
Kaylee McAden
Triangle Ferret Lovers
https://www.facebook.com/groups/trianglefl/
Donations and volunteers
We are still receiving donations from our community. For now, I have stopped letting the public, including volunteers, into the rescue.
Changes due to COVID-19
To cope with covid, I have stopped letting the public into the rescue, and I do home checks via video and pictures right now.
Additional changes
Just recently I have had an influx of surrenders. There was an influx of adoptions since the coronavirus and now, for about two weeks, the surrenders have been coming in.
Jessi Scheffler
Second Chance Dooks Ferret Rescue
https://www.facebook.com/groups/154752585268411/
Donations and volunteers
Financially, there wasn't much of a change due to covid, as far as items and pennies donated.
I also asked less. I didn't run any fundraisers or auctions. I didn't want people to feel like they should donate if they had little themselves.
I thought it best to not have volunteers at this time. The risk of spreading the virus just wasn't worth it. Plus I live in one of the top three worst states for covid.
Changes due to COVID-19
Right now, we have no adoptions and no volunteers. I didn't take any of the surrendered ferrets' belongings. Not even the carrier. Ferrets came in and went directly to the tub for inspection and bath, and they did a normal quarantine.
Additional changes
I had more adoption calls in three months than I have had in almost five years of running a rescue! There weren't any additional surrenders during the early phases of covid, but now that people are going back to work, surrenders are picking up. This is due to people spontaneously buying a ferret while they were bored at home. Many people, I think, forgot how busy their lives normally are, and now they no longer have the time for them.
Debbie Polhill Saunders
Big Lick Ferret Sanctuary and Hospice
https://www.facebook.com/groups/blfsh/
Donations and volunteers
Financially, we have never really had anyone give on a consistent basis. I pay everything out of my own pockets. No volunteers or visitors are allowed into the shelter until this pandemic is over.
Changes due to COVID-19
No one has been allowed in my home since March 14th, 2020. I closed the doors to surrenders in October of 2018 as I prepare to retire from the business.
Additional changes
We have seen changes to our vet visits. We have to sit in the car while the vet techs get the patient and bring them into the clinic. Then they bring them back out when the exam or procedure is completed.
Susan M. Baker
Friskybiznus Ferret Sanctuary
https://www.facebook.com/FriskyBiznus/
Donations and volunteers
We have definitely seen a financial impact. Normally, we have quarterly auctions to raise funds for our sanctuary. Because of the pandemic, we had to cancel our May auction. However, we got creative and found a way to raise some funds–both monetary contributions and donations of supplies.
We are closed to any volunteers or visitors until the threat level has been reduced.
Changes due to COVID-19
We haven't made any changes ourselves.
Additional changes
I am not seeing an increase in surrenders. I am noticing a huge increase in people contacting me and wanting to adopt.
Matthew Jaramillo, Director
Ferret Dreams Rescue and Adoption
https://www.facebook.com/ferretdreams/
Ferret Dreams Rescue and Adoption is the only state-licensed, no-kill, ferret-exclusive shelter in Colorado. We also run the Mile High Ferret Club in Denver. https://www.facebook.com/milehighferretclub/
Donations and volunteers
Our donations of supplies and money have actually increased during this pandemic. We decided to limit our volunteers to just Board Members until things improve.
Changes due to COVID-19
Masks and sanitizer for all guests. No guests allowed in ferret rooms, only the main living area.
Additional changes
Surrenders haven't increased for us. We have been overwhelmed with adoption applications, half from kids probably bored at home. Surrenders have begun again this week.
Dee Gage
Michigan Ferret Connection
http://www.westmichiganferretconnection.com/
Donations and volunteers
Surprisingly, people have continued to donate to us. We do still have volunteers at our shelter.
Changes due to COVID-19
The shelter has been closed to adoptions. We haven't seen an increase in surrenders.
Additional changes
More people, young people in particular, are wanting to adopt.
Barbara Osborn Clay, Director
Rocky's Ferret Rescue & Shelter
https://www.facebook.com/groups/110747029744/
Donations and volunteers
Donations significantly decreased after covid began. We don't have volunteers right now, and during lockdown, no visitors were allowed.
Changes due to COVID-19
Isolation and lockdown provided the first line of defense. Then we began disinfecting delivered supplies. No new surrenders were allowed, nor were families or individuals allowed to visit for the purpose of adoption. Surrenders increased dramatically: the requests to surrender since March is equal to the total number over the past three years.
Additional changes
The adoption requests since lockdown started have been overwhelming. Before lockdown, we'd average six adoption requests per month. After covid started, requests jumped, on average for the past three months, to six PER DAY! People wanted ferrets during lockdown and isolation, but the pet stores had them sold as soon as they arrived. This is due in particular to the fact that the global research industry was using ferrets as test subjects in developing medical responses to infection, as well as advancing the discovery of a vaccine.
Kevin Farlee
Washington Ferret Rescue and Shelter
https://www.facebook.com/washingtonferret/
Donations and volunteers
Our loyal supporters are continuing to support us. We obviously aren't getting donations from visitors or adoptions at this time. We are only allowing a few very select volunteers in. With only a couple people doing the vast majority of the care for LOTS of ferrets, we can't risk any of us getting sick, much less risk the ferrets getting sick and passing it around! That could be a real nightmare!
Changes due to COVID-19
We are closed except for urgent surrenders, and those are done outside with as little person-to-person contact as possible. We are already pretty careful about preventing the spread of anything in the shelter–for example, volunteers are gloved and change gloves between banks of cages–so those routines haven't changed a lot.
We have seen more requests to surrender a ferret. I have a ferret coming in this afternoon from someone being forced by loss of income to move back in with parents.
Additional changes
Is anything the same? NOBODY, except a handful of very select volunteers whose health we trust them to monitor, is allowed to step into the shelter.