How to bond with your ferret
By Stephanie Warzecha
Exercises, games, and other ways to create a stronger bond
This article originally appeared in Dook Dook Ferret Magazine (Issue 15). To receive 6 new Dook Dook Ferret Magazines per year + get access to other bonuses then join the Ferret-World Membership.
Ferrets can form close bonds with their human companions. This is mainly due to the domestication of the ferret over thousands of years that has bred them to be tamer to handle and more recently as ferrets have become pets, rather than hunters and working ferrets, they are also bred for temperament. Which makes them amazing companion animals.
However, breeding isn't the only factor that affects the ferrets behaviour towards it's human, according to Ball, 2006 ferrets may play roughly with each other, but like any other companion animal they can be friendly and affectionate towards humans if handled and socialised frequently from a young age.
So the key towards creating a great relationship with your ferrets is making sure they are well socialised and handled from a young age. Here are some examples of what this might involve.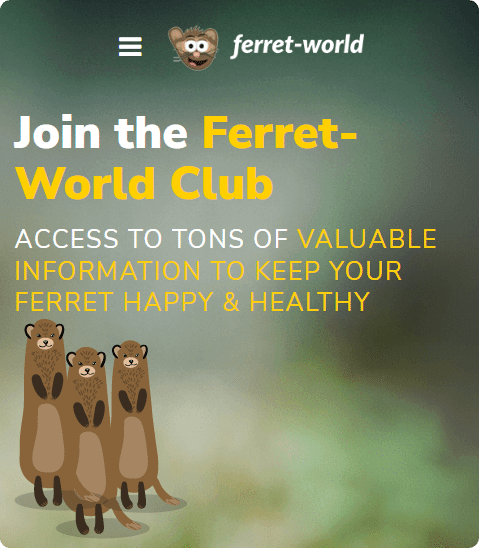 Enrichment
According to an online survey conducted by researchers, in which 466 ferret owners participated, they found that the amount of enrichment items a ferret was provided with in the form of games and toys directly affected a ferrets behaviour towards their human. In the study, ferrets were provided from two to six items of enrichment. Ferrets provided with larger amounts of enrichment demonstrated a higher occurrence of play related behaviours such a dooking and weasel war dance. There was also a significant interaction between the number of hours ferrets spent confined and number of enrichment items on the incidence of bite-hurt (an undesirable behaviour), which suggested that generally, higher levels of enrichment and less time spent in a cage resulted in less bite-hurt. (Talbot, S.2014). From this survey a conclusion can be drawn that the more enrichment items in the form of games and toys that you provide your ferret, along with more time out of their cage, the more happy and excited behaviours they will exhibit while reducing the amount of undesirable behaviours such as biting and therefore this probably means they have a more positive experience and relationship with their human companion.
Smell and familiarity
With their noses always to the ground, a ferret explores and familiarases itself to its surroundings through a keen sense of smell. In the book, Ferrets For Dummies, Kim Schilling points out that a ferret is able to smell water, which is why blind ferrets have little trouble finding their water bowls. You can use this strong sense of smell to your advantage by putting a worn t-shirt into your ferrets sleeping area so they may familiarise themselves with your smell. Therefore they can form a positive connotation and feel a familiarity around you.
Love & Affection
What is your intention behind how you handle and socialise your ferret? If you handle your ferret with love, patience and care, they will be able to sense that you have positive intentions towards them and be more likely to start to trust you. The more love and affection you give them the more they will be likely to warm to you and show affection back to you by licking you or sitting in one spot in one place for more than a few seconds. When a bond gets really deep you might even experience them seeking out your company and sleeping in your lap. If you think about it, being in a sleep state is one of the most vulnerable states we can be in around someone else, and the same goes for all animals. That is why most animals take precautions to keep themselves safe during a sleep state. They might sleep in burrows or in groups, humans lock the doors at night to keep themselves safe in a sleep state. So when your ferret seeks your company and falls asleep in your lap, then it is generally pretty safe to assume that you have developed a special trusting relationship that could have only come from a place of you looking after it from a place of love, care and comfort.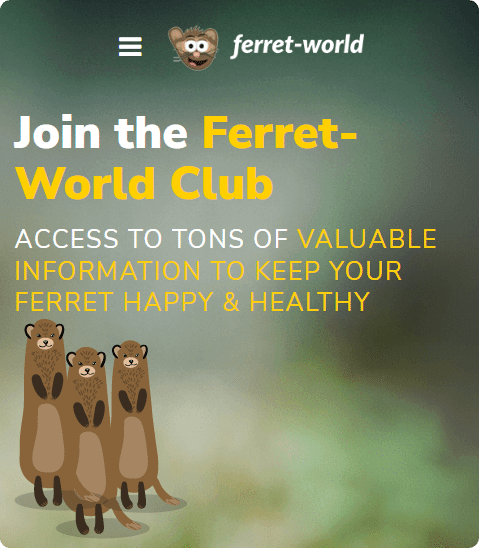 Quality Time: Training & Games (walking on lead, adventures together, playing together)
Another way to strengthen your bond with your ferret is to spend quality time with it. If you observe your ferret, and read about ferret behaviour, you may realise that ferrets value exploring and playing. If you can appeal to their values when you spend quality time together you will find that they will enjoy spending time with you and might even try to engage you in play because you have spoken their "language", appealed to their highest values, and done things with them that they really enjoy, stimulates their mind, makes their life more fulfilling. Some of the things you can try are trick training, taking your ferret out for walks on a lead, playing together and providing them with a number of games and toys to play with. Don't be affraid to get down on the ground and spend a lot of time interacting with them. Don't force things though. Allow the relationship between you to grow organically and for the trust to form.
It is important to make sure your ferrets basic needs are met for them to be happy. For example, If they have poor quality food or a dirty cage, they might find it hard to find joy in their lives. The more they feel looked after, cared for and have their basic needs met, the more likely they are to trust you, and bond with you.
Don't try to force it
The greatest thing about love and bonding is that it is not something that you can't force. It is something that is earned through good intentions and the other party feeling safe and happy to spend time in your company. You need time and patience in order to achieve a level of trust that leads to a great bond with your ferret.
Here are also some examples of how ferret owners around the world form strong bonds with their ferrets:
This article originally appeared in Dook Dook Ferret Magazine (Issue 15). To receive 6 new Dook Dook Ferret Magazines per year + get access to other bonuses then join the Ferret-World Membership.
Citations:
Ball, R.S, 2006, Issues to consider for preparing ferrets as research subjects in the laboratory
Talbot, S., Freire, R., & Wassens, S. (2014). Effect of captivity and management on behaviour of the domestic ferret ( Mustela putorius furo ). Applied Animal Behaviour Science, 151, 94-101.
Ferrets for Dummies