SNEAK PEAK INTO EMZOTIC ISSUE OF DOOK DOOK FERRET MAGAZINE
By Stef
NEW ISSUE OF DOOK DOOK FERRET MAGAZINE FEATURING EMZOTIC IS OUT NOW!
Dook Dook Ferret Magazine is the #1 Ferret Magazine in the world and exclusive to the Ferret-World Membership. To learn more on how you can get 6 copies of the digital magazine per year (plus other bonuses), check out the Ferret-World Membership.
What a fun and informative issue we have in store for you! Not only have we managed to secure an exclusive interview with one of the world's most famous YouTube animal educators, Emzotic (page 16), but we also have a special gift from Seth Pywell, who is famous in the ferret community for his ability to train ferrets to follow him outdoors without a leash. Seth has graciously gifted his book on how he trains ferrets! We'll be publishing an excerpt of two chapters in this issue (page 41) and those following.
We also are implementing a new bimonthly reader challenge (page 66), an invitation to try new things with your ferret to strengthen your bond, engage your ferret, and keep your ferret healthy and happy!
Also featured in this issue is:
Interview with Emzotic: Famous animal educator and ferret lover, by Stephanie Warzecha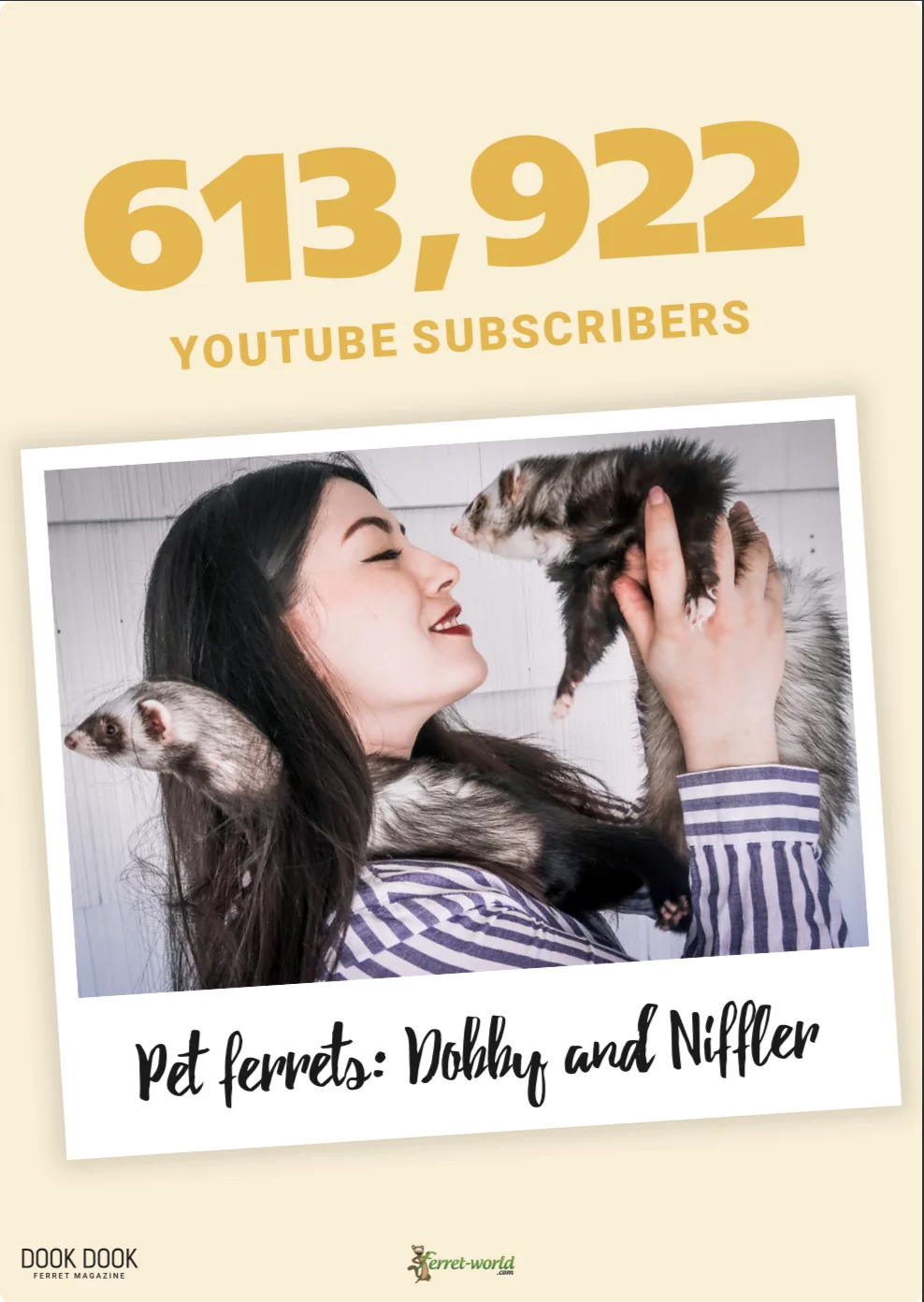 Help! My ferret has rat tail! by Dr. Rose-Anne Meissner and Dr. Lynne Boggs
Seth Pywell's F3 Training System for Ferret, Mink, and Other Mustelids
When it's time to take a break from ferrets by Stephanie Warzecha
Ferrets at play: What's your ferret's favorite game or toy?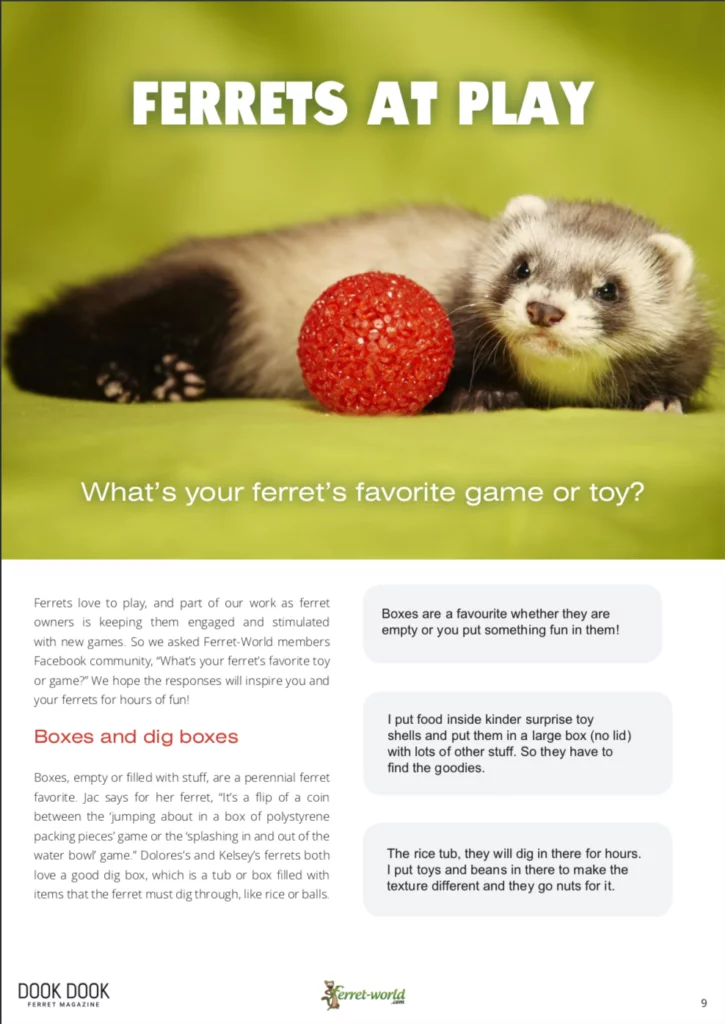 Ask a Vet – feature for Ferret-World Members where they get to ask our panel of vets a question and get an answer. One of the features of the Ferret-World Membership is 'ASK A VET' where Members are able to send in their questions, and we get our panel of vets to answer them in Dook Dook Ferret Magazine. In return, vets get to promote their business to our readers. If you are a vet that would like to join our panel of experts, then Contact Us (we also love it when Vets join the Ferret-World Membership and participate in our community).
In each issue of Dook Dook Ferret Magazine we like to feature artists, photographers and anyone who does some cool/beautiful/creative things with ferrets. We love to promote creatives, especially when they are working towards helping to change the reputation of ferrets around the world by showing the loving, playful, intelligent side to them.
OUR VALUES FOR DOOK DOOK FERRET MAGAZINE
The primary focus of the magazine is to improve the health and happiness of ferrets around the world. We never recommend products, services, diets, or practices that we do not believe are in the best interest of ferrets.
We also love and care for our community of readers, members and ferret owners all over the world. Ferrets are one of the beautiful things that brings us together. We love working with our community to provide the best support and information to ferret owners from all over the world (especially because there are places around the world where access to ferret experts and vets is still hard to get).
We love science and providing the most credible information on ferrets in the world. We try to back as much of our information with science and ferret experts. Our writers have access to a paid scientific database which they use, in order to do research on the topics they write on. We take our magazine and the articles we write very seriously.
When you are a Ferret-World Member, not only do you get 6 issues of Dook Dook Ferret Magazine every year, but you also get access to the NEW Member Forum, an amazing community, bonuses and resources.
Learn more and Join us 
in the exclusive Ferret-World Membership.