What Is It Like to Run a Ferret Shelter?
By Lisa Vaughn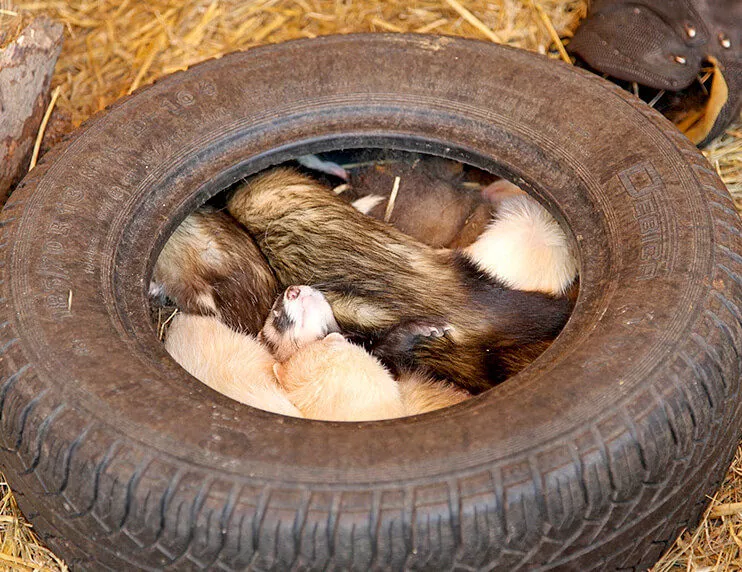 I've been asked this many times and there is no one single answer that can adequately describe it, but I will try.
The best words to describe it, at least for me, is "hectic" and "emotional."  The job of a shelter mom is never done. There is always something to do, like cage cleaning, medications, rotating play times, nails, cleaning toys, washing blankets, and the all-important giving of love and snuggles.
That's just the surface. There's a lot involved in running a rescue and/or shelter, especially paperwork. There's each individual ferret's file with the details of their intake, medical records, and any other information that pertains to that ferret. There's the administrative side; obtaining the 501(c)3 nonprofit status is HUGE for a rescue. It lends legitimacy. It's expensive to obtain and it's a daily process to make sure all records are up-to-date and accurate. If you plan on rehoming out-of-state, most states require you to register your rescue with the state's Department of Agriculture. Rescues and shelters also need connections to pet stores, humane societies, vets, and other rescues for various reasons.
A big part of a rescue is rehabilitating the animal, both physically and mentally. The one good thing about ferrets is that they are mentally very resilient! Physically, that's another story. But shelters have to work with these babies, alongside the shelter vet, to get them healthy. Depending on what their situation was, this can be a fairly quick process or a very long, drawn-out one. Sometimes when you think they are going to be hard to save, you save them. But the other side is true as well; sometimes when you think you've crossed the hurdle, you lose them.
There's a phrase that's all too commonly used to describe shelter moms: Foster fail. You fall in love with all of them, but sometimes there's that connection you can't walk away from, so they become a permanent resident. The most heart-wrenching thing I deal with is having to turn ferrets away when I'm at capacity, which I almost always am. I have to keep a couple spots open for those life-and-death situations that rescues can't and won't walk away from, and those seem to happen more and more frequently.
When you lose them, and it is "when," not "if," it can tear your heart out and make you question why you keep putting yourself through such an emotional toll. So many times I've been very close to wrapping it up, not wanting to put my heart through any more grief. But it inevitably starts eating away at your mind that there are so many more that need saving. So you keep going, knowing you're going to lose another part of your heart. So when that happens, you share your grief with the ones you were able to save, thinking about their story, crying when you know they wouldn't have survived their previous life. And then it hits you again, why you do it. Because of them. Because they wouldn't stand a chance if you didn't give that chance to them.
Join the Furever Home Ferret Rescue Sanctuary on Facebook at www.facebook.com/Furever-Home-Ferret-Rescue-Sanctuary
This article originally appeared in Dook Dook Ferret Magazine (Issue 5). To receive 6 new Dook Dook Ferret Magazines per year + get access to other bonuses then join the Ferret-World Membership.