Your Ferret Care Checklist
By Courtney Stoker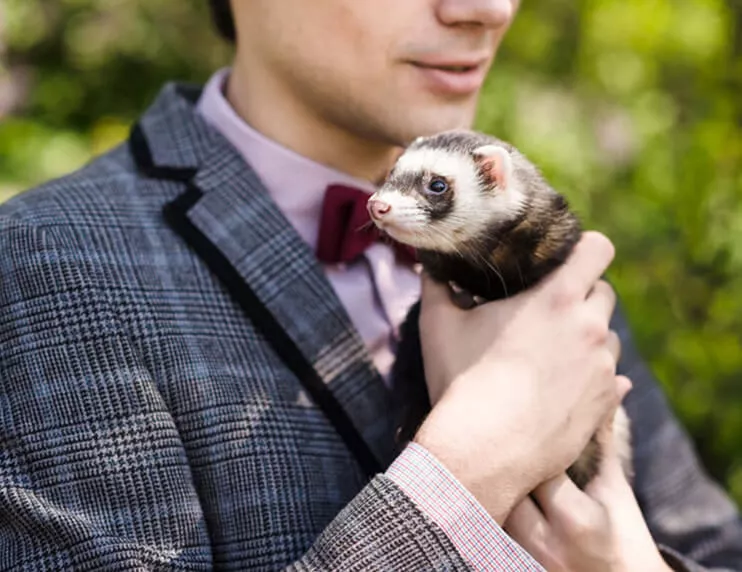 Most important things to do:
Desex your female ferret or talk to your vet about alternatives. Female ferrets who do not mate when they go into heat can die from aplastic anemia.
Protect your ferrets against the heat. Ferrets are very susceptible to warm temperatures and heat stroke.
Ferret-proof your home. Ferrets are prone to injuries and accidents, due to their small size and curious nature.
Create an emergency vet fund. Make sure you can care for your ferret when something goes wrong and they need veterinary attention.
Before you buy a ferret:
Make sure ferrets are legal to keep where you live.
Research ferrets as much as possible (and never stop!). Figure out if a ferret is right for you and never stop learning about how to make your ferret happier and healthier.
Buy their cage, bedding, food and water bowls, toys, and other accessories to ensure you can settle them in right away.
Make sure you are OK with how ferrets smell, as this is the reason why many ferrets end up in shelters.
Familiarize yourself with ferret behavior so you can recognize the signs of sickness, stress, pain, fear, happiness, and playfulness.
Make sure there is a vet that specializes in ferrets in your area. Most vets do not know how to treat ferrets.
When you have your ferret:
Learn how to handle your ferret appropriately and teach the rest of your family and friend.
Research your ferret's physiology and digestive system and make sure you feed appropriate food for an obligate carnivore.
Continue to ferret-proof your home and anywhere the ferret is going to be playing to prevent injury or death.
Regularly change up the toys and games that stimulate your ferret during playtime.
Figure out your ferret's exercise routine: how many hours a day (we recommend at least 4), the routine, and physically challenging games your ferrets can play to maintain a high level of fitness.
Ferret training:
Train your ferret to use the litter box.
Train your ferret not to nip.
Daily:
Clean the ferret's litter box.
Feed your ferret.
Change your ferret's water and ensure their water bowl is full.
Supervise playtime to make sure they are not getting into any mischief or accidents.
Make sure the ferrets are sleeping in a dark, quiet space. Reduce their exposure to loud sounds and too much artificial light so they can sleep well.
Spend time bonding with your ferret and doting on them with lots of love.
Assess your ferret's health and happiness. If you think something is off, take it to the vet.
Periodically:
Wash your ferret's bedding every week.
Clip your ferret's nails every two weeks.
Clean your ferret's ears every two to three months (or when needed).
Apply flea and heartworm prevention medicine prescribed to you by your vet.
Yearly:
Take your ferret to the vet for a checkup.
Get your ferret vaccinated regularly (as per the recommendations of the vet).
Never:
Never breed your ferret unless you are an experienced breeder that specializes in ferret genetics.
Never feed your ferrets sugary treats, vegetables, or fruit.
Never hoard ferrets. Some ferrets are solely solitary animals, while others enjoy some company. Ferrets in too big a group can suffer from stress.
This article originally appeared in Dook Dook Ferret Magazine (Issue 13). To receive 6 new Dook Dook Ferret Magazines per year + get access to other bonuses then join the Ferret-World Membership.