Featured Ferret Shelter: Texas Ferret Lovers Rescue
By Courtney Stoker
This issue's featured ferret shelter is Texas Ferret Lovers Rescue of Balch Springs, Texas, USA. Texas Ferret Lovers Rescue was founded by Millie Sanders. You can find more information about the rescue at www.txferretrescue.org, follow them on Facebook at www.facebook.com/groups/TexasFerretLoversRescue, or participate in their fundraising auctions at the Facebook buy and sell group Friends of Texas Ferret Lovers Rescue Fundraising Auctions.
Do you want your rescue to be our next featured ferret shelter? Email [email protected].

Q: When did you first fall in love with ferrets? How many have you had over the years?
A: The first ferret I saw was running loose in my backyard in 1983; I brought him and kept him when I couldn't find his owner. I bought my next ferret in 1991 and became president of the Ferret Lovers Club of Texas. Including the shelter ferrets, I've had thousands of ferrets over the past 25 years.
Q: How did you start the shelter?
A: I sort of fell into it.  As president of the Ferret Lovers Club of Texas, I got many calls from people who needed to give up their ferrets and others wanting to adopt. Eventually, I started getting calls about emergencies and ferrets who needed to be rehomed immediately. I started taking them in, not knowing it would eventually balloon into a full-time job!

Q: What's it like running the shelter in the day-to-day?
A: Right now, I am trying to make sure my shelter does not have more than 50 ferrets at a time because I'm 75 and can't get down to the floor to clean like I used to. Every day, I clean the cages, put the ferrets out in playpens and break out fights, wash 2-3 loads of bedding, fill food and water dishes, change bedding and toys, give medications and subcutaneous fluids in the sickroom, answer the frequently ringing phone, answer emails, and meet with people who need to surrender their ferrets.
For new ferrets, I give distemper vaccinations and microchip, clip their nails, start a flea treatment, and fill out paperwork. When adopting out a ferret, I fill out more paperwork, print a folder full of general information about ferrets, bag up the food they're currently eating, and teach the new owner how to clip their nails and clean their ears.
Once a week, I take the ferrets who are new, sick, or due for follow up care to the vet. I regularly order medications, food, litter, and other supplies, which I typically need to pick up and unload at the shelter.
It's a lot of physical and emotional work in the day-to-day.
Somewhere in the thousand.; I didn't keep records until 2004, but in the last 5 years or so, I've taken in 300-400 ferrets a year. I used to have 4 rooms in my house dedicated to the ferrets, but now I have an add-on to house the ferrets and my den is broken up into 8 playpens. I try to keep the shelter down to 50 ferrets or fewer and we currently have over 60 ferrets in our foster program.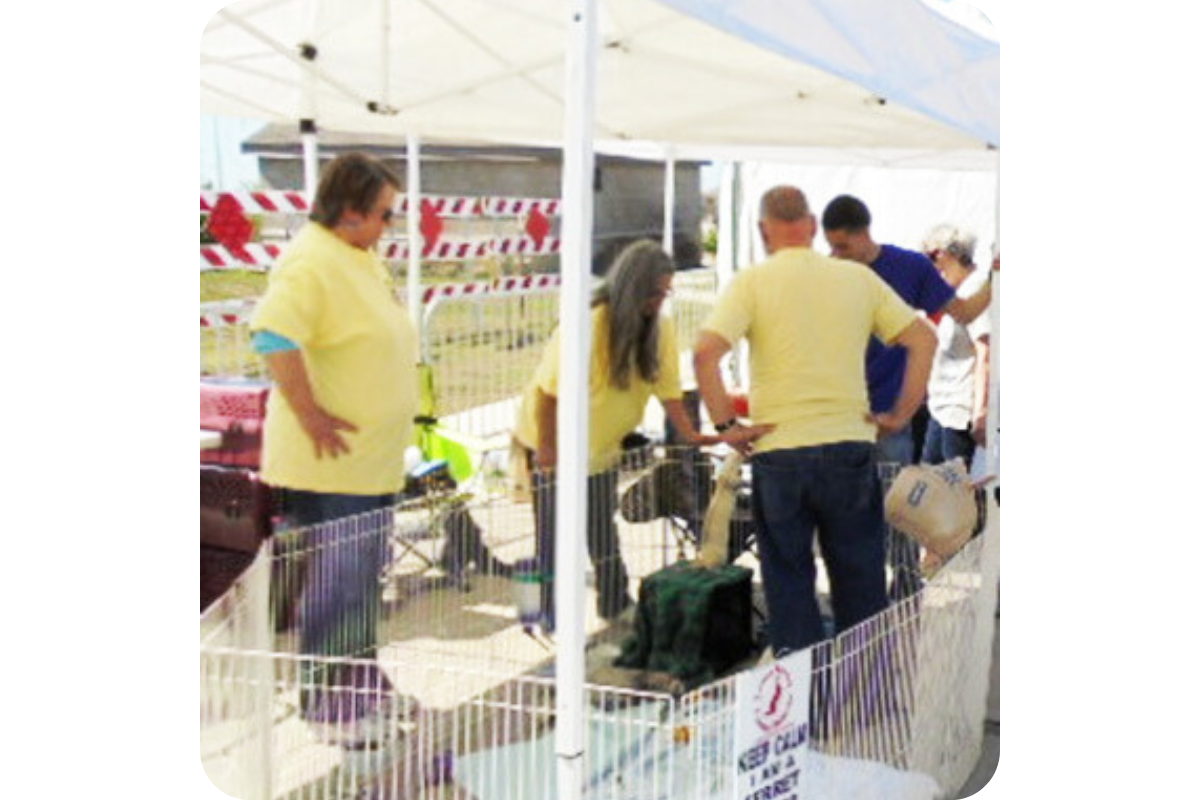 Q: What are the biggest heartbreaks you have experienced? 
A: Death. It's hard to get a ferret who is in such bad shape we can't help, from fat, pretty ferrets dying of heat stroke, emaciated ferrets with tumors so large it hurts them to breathe, to ferrets who are so old their owners are tired of waiting for them to die. So many of our ferrets come here with a broken heart and just won't respond to our attempts to keep them alive.
Q: What are the most precious moments you have experienced?
A: I think every time an adoption takes place, when I can feel the joy of the people being picked out by a ferret and watch the little tyke play its heart out trying to keep their attention, is a precious moment. Every time I take them to nursing homes and see the people who love animals respond to them is a precious moment. And sometimes just sitting down and watching them play together is a precious moment.

Q: Why do people surrender their ferrets? What are the most common reasons?
A: The most common reason is that the owner is moving and can't take them with them. Sometimes the kids have outgrown the ferret, the owner has a new job that is too demanding for ferret ownership, or it's too difficult to care for the ferret with a new baby or young children.
Q: What do you believe people most need education on when it comes to keeping ferrets as pets?
A: Many people don't know that ferrets are sensitive and require more care and attention than dogs and cats. Ferrets are not good caged pets and need long periods out to explore, stimulate their minds, and build good muscle mass.
People also need to be able to recognize an emergency that can't wait for when you're ready to go to the vet.
Q: If you had a magic wand and could wish for one thing, what would it be?
A: I would wish that all pets lived as long as humans and had a loving home!
This article originally appeared in Dook Dook Ferret Magazine (Issue 9). To receive 6 new Dook Dook Ferret Magazines per year + get access to other bonuses then join the Ferret-World Membership.