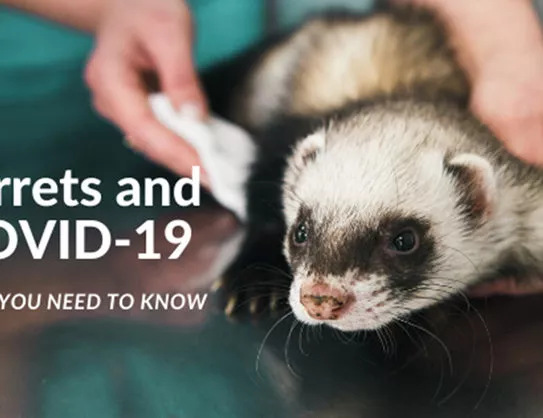 Ferrets and COVID-19: What You Need to Know
Viruses can be frightening. We can't see them, we can't smell them. And yet, they cause some of the worst diseases
View Post
I'm so glad I subscribed. Just in this one magazine, there is more than I can read in a sitting. Being online, this is perfect, I can retrieve my magazine and read at-will! I'm encouraging all of my friends to subscribe. The cost is so minimal, and the content is just a wealth of knowledge, and topical current subjects. Lots of fun stuff too. My advice to you all; SUBSCRIBE!

Barbara Osborn Clay

Owning ferrets is a learning experience! You never ever stop learning! I have found that the best new resource is the Dook Dook Ferret Magazine and Ferret-World Membership. It is not only entertaining but educational as well. I would highly recommend it for anyone who owns ferrets, and anyone who is considering owning ferrets. I can't wait to read each new issue. It's the best!

Nicole Dolby from Fuzzybutt Ferrets Tasmania

The magazine has changed how I will care for my future ferrets!

I am going to be fostering my very FIRST ferrets ever next month! I have read and researched through so many books and other sources, but the Dook Dook Ferret Magazine is by far at the top with the well known "Ferrets for Dummies". The Dook Dook Ferret Magazine has changed how I will care for my future ferrets by helping to grow my knowledge of ferret care beyond my imagination. The best thing about the magazines is the variety. Every issue is something a little different! I love the magazines because they are informative and full of never-ending fun! I would recommend it to anyone considering becoming a farent and current farents as well because you can always learn more! They also have many great and entertaining stories to read. Because of Dook Dook Ferret Magazine, I will be one of the greatest first-time farents ever and that's makes me so happy inside. Not to mention I work in a pet store, so being able to give reliable information to the community and my fellow employees is so sensational.

Jade Noble

Now you've done it.

Showed me on facebook the new / latest Ferret Magazine cover. So I said to myself "Too bad ! There is way too much value in this for the whole year !"
So, I updated my credit card info and hope that goes through so i can get my issue.

Looking forward to reading it. Packed full of useful information, even for people like me with some 20+ years experience with ferrets.

Good work !

Kate Kilstrom

Another superb edition of Dook Dook Ferret Magazine. Just the right balance with the educational side, pictures, readers experiences and a little bit of fun thrown in too. I loved it and have to say I have learned more about little fuzz butts in the last 6 months than I ever thought possible and this from someone who has loved them as pets for well over a decade. Well done Stef and your team!

Steve Suthurst

I love all the artwork, the photo contest, new ferret checklist, how to interview a vet to see if they are suitable, and the clean label project. I haven't even read it all yet, but it's All good stuff. I've been printing each issue out and have in a binder. I've even taken a copy to my vet!

Susan Jones
Get Answers To Problems That Every Ferret Owner Faces
It's time to end the confusion, cut through the nonsense and discover the next best thing you can do for you and your ferret.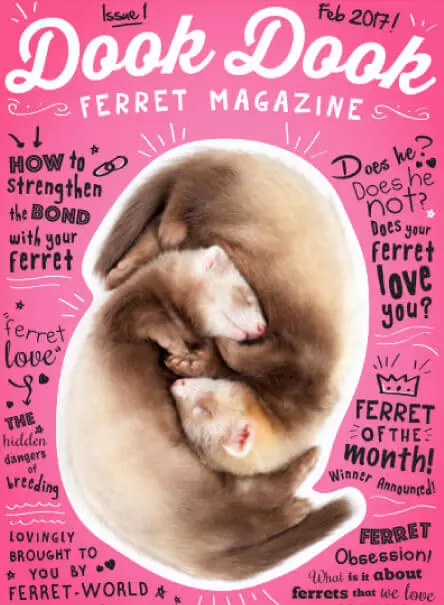 Finally! A Magazine Dedicated To
You & Your Ferret
Each edition features the latest news in the ferret world along with, science and research articles, solutions to common problems, community spotlights, games and more.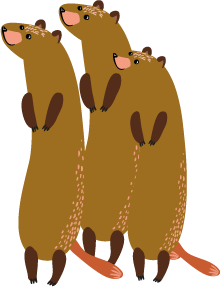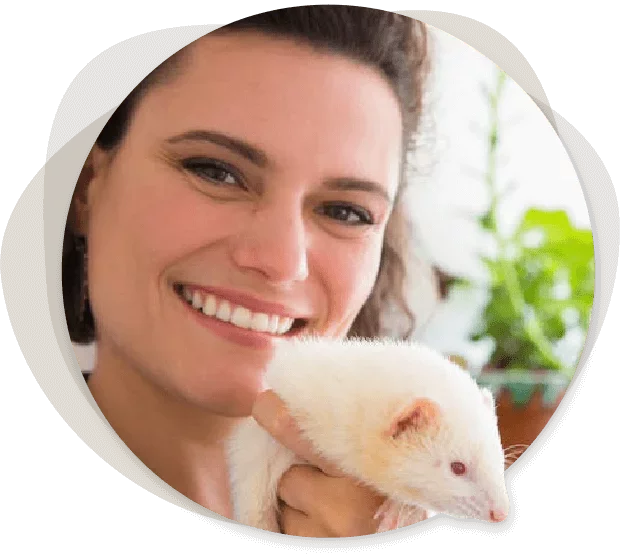 Ferret-World is the largest ferret community and most credible ferret education website in the world. Ferret health and wellbeing are our top priorities and we do this by presenting ferret owners with the most up to date peer-reviewed, scientific and expert-based information on ferrets. We do this through Ferret-World.com, The Dook Dook Ferret Magazine and The Happy, Healthy Ferret University.