What to expect from your first ferret
Ferrets may nip and will need training
Ferrets can nip for a variety of reasons. Some are scared of their new environment and you when they first arrive in your home, so they might try to communicate to you that they are scared through a fear bite. Others are babies that require some nip training, socialisation, and handling. The majority of ferrets nip while they play with each other; initially they don't know that they are not supposed to do that with you. Just like with cats and dogs, you will likely need to teach them patiently not to nip humans. With proper understanding, training, and socialisation, a ferret should not bite their human, although they still might try a little nonpainful nip during play time.
You will need to spend time toilet training your ferret
Ferrets are naturally predisposed to pooping in the corner, which makes it easier to train them. However, not all ferrets will poop in the same corner all the time. There can be a few reasons for this. Some might not know what a litter box is and need to be shown its purpose. Others might not like the litter box you have given them if it is too small and they can't fit all of their feet in comfortably. Another reason might be that your ferret's litter box isn't cleaned frequently enough by you and therefore they develop a dislike for it and try to find other, cleaner places to poop. There are many reasons why ferrets might start pooping in places other than their litter boxes and you need to be on top of their training. Otherwise your ferret will develop bad habits and you will be stuck with a ferret that poops wherever they please.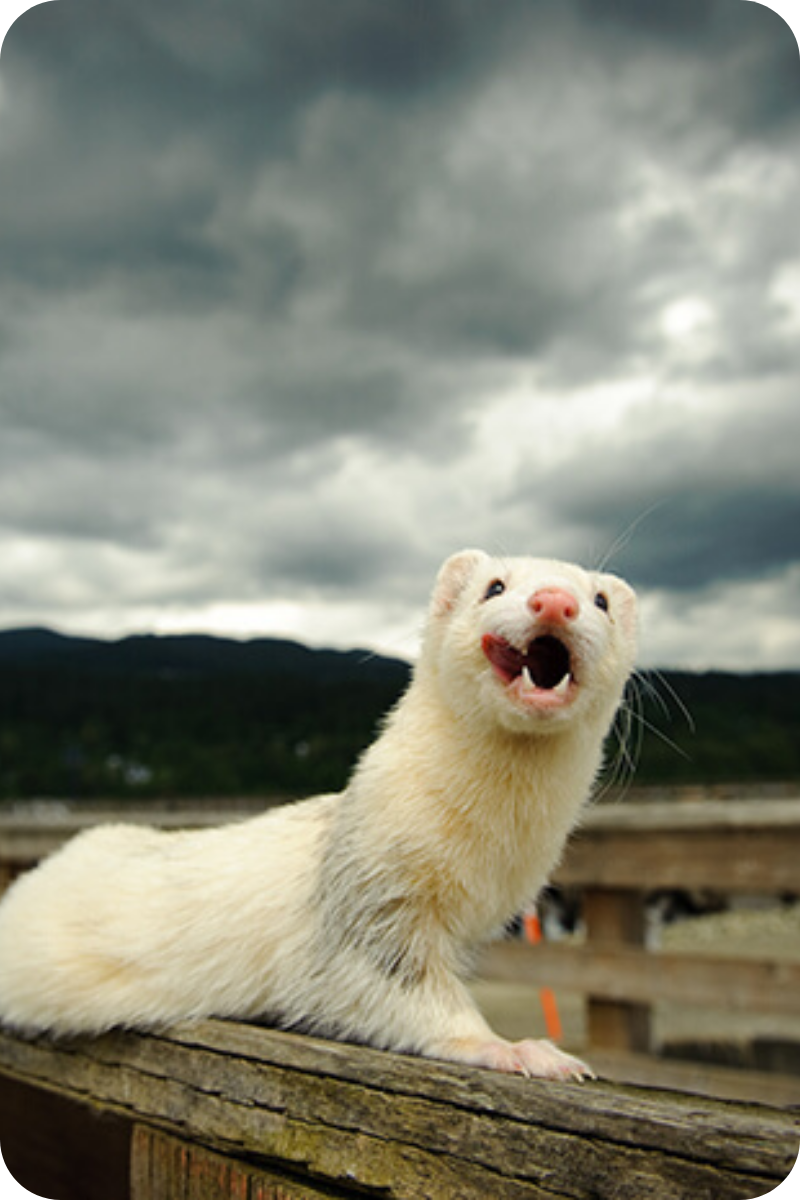 Socialisation, handling, and bonding
If you want a ferret that is well behaved and bonded to you, then you will need to spend time socialising your ferret, handling him, and playing with him as much as possible. This means you need to spend time learning about your ferret, observing her behaviour, getting to know her quirks and needs, and letting her get to know you and other members of the family. The ferret's age and personal history can influence how quickly he bonds with you and how much time you might need to socialise him. Think of it as building a relationship with your ferret. All human relationships take time to build rapport and an understanding of each other. The same goes for you and your ferret.
Energy and playtime
Ferrets are inquisitive and curious creatures that need a lot of mental stimulation. This means that you can expect to spend around 4 hours a day allowing your ferret to play and explore in a safe, stimulating, enriched environment. Without this daily opportunity to get out of their cage, ferrets can get bored, stressed, or depressed which leads them to develop behavioural and health issues. Ferrets also love engaging you in their games and play time, which is a great bonding opportunity for you, so you do need to be present and engaged with ferrets around.
Responsibility and time commitment
Owning a ferret is not for everyone because of the responsibility and time commitment needed to keep ferrets happy and healthy. Ferrets live an average of 7-10 years; they are a long-term commitment. On a daily basis, you will be spending a lot of time playing and interacting with them, cleaning out their litter and preparing their food.
Poop, lots of poop!
A ferret's digestive system is very efficient due to a fast metabolism. It takes about 3 hours for food to go in the mouth and come out the other end. This means a lot of poop for you to clean up!
Not all ferrets are cuddly
You are more likely to have a ferret that tries to wriggle out of your arms rather than one that lets you cuddle it. Ferrets have a lot of energy and not much patience for cuddles. They are known for being feisty, mischievous, and playful. But they show they love you in other ways, like engaging you in their play time and giving you kisses.
Fun, laughter and lots of happiness
Even though ferrets will take up a lot of your time and energy, they are some of the most entertaining and happiest animals to have as part of your family. That is why ferret owners are so fanatical about their furry friends and would do anything to make them happy and healthy. They require a lot of care, but they give so much fun and happiness in return.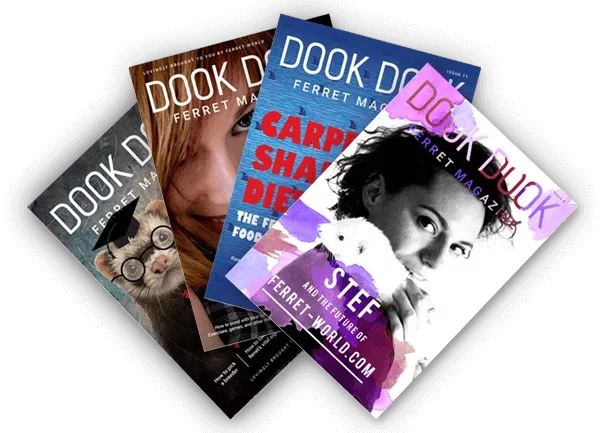 Helping Your Ferrets Live Healthier, Happier Lives
Join other ferret owners and experts and get access to Dook Dook Ferret Magazine, Ferret-World Members Community and other Resources!
How to prepare for your first ferret
"Ferret-proof" your house
Ferrets are intelligent and curious animals with bodies that fit into most places. This makes them prone to injuries as they try to weasel their way into places they are not supposed to be and play with things that might harm them. Ferret-proofing is a must before you get a ferret and you need to keep track of your ferret once you get it. Otherwise the vet bills can run up into the thousands of dollars. Some things to consider when ferret-proofing include:
Get down on your hands and knees
Try to look at the ferret's play area from the perspective of your ferret. Getting down low will help you see if there are any holes in the walls, floor, or furniture that a ferret might end up going through.
Look out for any cords, sponges, rubber bits, ear plugs, foam rubber, dried vegetables, bandages, etc. that your ferret might like to chew or eat.
Look for places ferrets might climb, jump off, or fall from
Ferrets are really good climbers. Unfortunately, a fall from even a small height can cause fractures or broken bones. It is best to try to prevent ferrets from climbing, jumping and falling wherever you can.
Be careful with what you leave lying around the home
Never leave food, medications, chemicals, or cleaners in places that a ferret may be able to reach. Keep all cleaners and chemicals in a cupboard well out of reach of ferrets. For a ferret, ingesting a chemical substance can be fatal.
Do lots of research
Research and education on ferrets never ends. Even highly experienced ferret owners continue to research and learn new things in order to keep their ferrets happy and healthy throughout the different stages of their ferret's life. There is a lot to learn about ferrets. This includes which foods they should eat, husbandry, best toys and games for playtime, diseases, when to take your ferret to the vet, and so much more!
Watch lots of ferret videos to get familiar with how they behave
A lot of new ferret owners are surprised by how their new pet behaves. Ferrets have a lot more energy, vitality, and curiosity than most people expect. If you can't get to a ferret shelter to observe ferret behaviour in person, then we suggest watching some videos online so you can get familiar with some common behaviours and get an idea of what your ferret might do. A good resource with credible information on ferrets is the Ferret-World YouTube channel.
Volunteer at a ferret shelter
If you have a ferret shelter nearby, then it's a good idea to volunteer or visit one before you get your ferret. Not only can the shelter owner help with any questions that you might have, but you will also get to experience ferret smell and see if you are able to cope with it in your home. A shelter will give you ample opportunities to learn more about how ferrets behave. You might also find your new ferret at the shelter!
Find a good vet in your area
Before you get a ferret, you should call the vets in your area to ask them if they treat ferrets. It can be very hard finding a good vet that specialises in ferrets as ferrets are rare as pets in some countries around the world. Your ferret's quality of care will be influenced by how much experience her vet has with ferrets. A vet who does not treat ferrets regularly will not be as knowledgeable as one who treats ferrets regularly in his vet practice. Ferrets are unique animals with unique medical needs and therefore it is important to have the right vet in the area.
Prepare your family members for a ferret
If you have other members of the family living with you and the ferret, then it is important to educate them on the ferret before he arrives. Things to talk about include how to walk around the ferret, what to do if the ferret nips, how to engage with the ferret, how to handle a ferret correctly, which foods are allowed, how to play with ferrets, etc. This way you will avoid any accidents or danger to your ferret and everyone in the family will enjoy the ferret's company a lot more.